Malls take more modern approach to Santa visits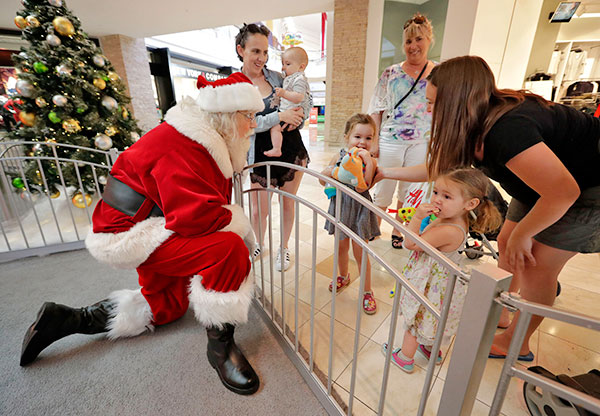 Father Christmas Roger Edmonds talks with kids at the Santa HQ at the Chandler Mall, in Chandler, Arizona. In an effort to lure online shoppers to their stores, many malls are upgrading the traditional visit to Santa into a high-tech spectacle.[Photo by Matt York/Associated Press]
Shopping centers hope high-tech makeovers will draw shoppers back to the stores
Hop on a virtual sleigh ride to the North Pole. Stand on the "Naughty or Nice O'Meter". Snap a selfie and see your face on a dancing elf. The Santa experience has gotten a makeover as many malls install shows and games they hope will lure shoppers who are buying more online.
About 40 malls in the United States and one in London have the high-tech Santa displays, most of them located near major cities that tend to house pricier stores.
Taking photos on Santa's lap costs about $30 and up, around the same as at other malls, but most of the malls say people can walk through without purchasing anything.
"It was a half-hour of entertainment that was free," says Katie Mass, who took her twin daughters through Santa's Flight Academy, a 914-square-meter setup at The Mall at Short Hills in New Jersey.
She had gone to the mall to return some dresses, but had to stop when her 2-year olds saw the spectacle. "They started running," says the stay-at-home mom from Westfield, New Jersey.
The girls tapped touch screens, pulled levers and watched as flight suits were virtually fit over their bodies on a screen. The final stop was a two-story tall enclosed sleigh that dropped fake snow upon them. One girl made snow angels on the floor while her sister danced under the colorful lasers. "It was extravagant and well done," says Mass.
An old-school Santa display got the boot at Queens Center in New York as the mall this year installed Santa HQ, where kids stand on the "Naughty or Nice O'Meter" and watch their names pop up on Santa's "Nice List" screen. In another room they can take a selfie and see themselves as dancing elves.
Malls are hoping the over-the-top Santa visits remind people what brick-and-mortar stores can offer. They're increasingly trying to offer special experiences as they compete with online rivals, says Howard Davidowitz, chairman of New York-based retail consulting group Davidowitz & Associates.
"The parents love it, the kids love it and Amazon can't do it," says Davidowitz.
Santa's Flight Academy was developed by mall operator Taubman Centers Inc, which spent two years on the idea. Like other malls with elaborate Santa sets, Taubman declined to say how much it spent on the attraction.
But whatever malls are spending on the Santa spectacles is worth it, says Davidowitz. Santa has always attracted crowds, he says, but adding a high-tech twist is likely to bring in even more who may stop to shop.
"I don't see many things out there that equal Santa's power to draw crowds," he says.