Around 20,000 flee their homes in Aleppo over past three day: ICRC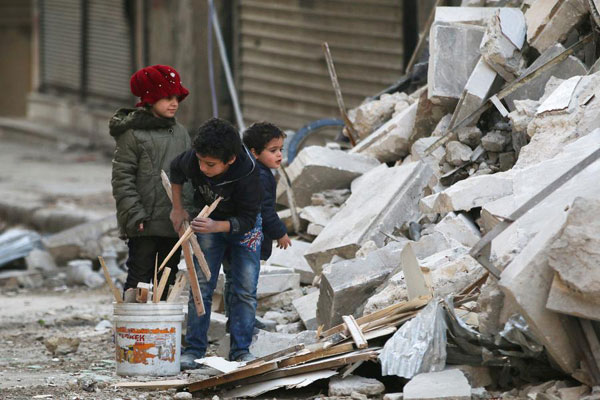 Children collect firewood amid damage and debris at a site hit by airstrikes in the rebel held al-Shaar neighbourhood of Aleppo, Syria November 17, 2016. [Photo/Agencies]
GENEVA - It is estimated that more than 20,000 people have been forced to leave their homes in Aleppo over the past 72 hours, the International Committee of the Red Cross (ICRC) said Tuesday.
It added that around 60,000 people fled the war-torn area since August of this year.
In a media statement issued Tuesday night, ICRC said that some people live in shelters, some in mosques, schools, or tents, while others found refuge in unfinished or damaged buildings or being hosted by families who are already under great strain.
"So many people have been forced to flee two or three times as the bullets and bombs got closer," the statement said, adding that the west of Aleppo has seen more than 40,000 people flee areas of active fightings.
In the east, intensified attacks on the neighborhoods of Masakan Hananoo, Jabal Jabro and Sakhour reportedly led 20,000 people to flee in different directions in search of a safe place.
"The majority of those who flee are families, including many with infants and young children, and the situation in their precarious shelters is made worse for all as winter takes hold and temperatures drop," ICRC stressed.
Aleppo used to be a city of over two million but with so much fighting and displacement, it is impossible to say with any precision how many people are left today, it added.
In a statement made available earlier Tuesday morning, the UN under-secretary-general for humanitarian affairs, Stephen O'Brien, warned that food stocks have all but run out in eastern districts of the northern city.
This has been compounded by the lack of adequate medical facilities and supplies, as well as a recent upsurge in fighting around Allepo.