Plane with Brazil's Chapecoense soccer team crashes in Colombia, 75 dead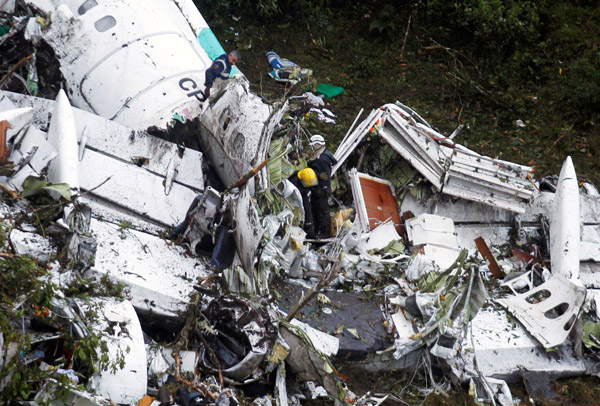 Rescue crew work in the wreckage from a plane that crashed into Colombian jungle with Brazilian soccer team Chapecoense near Medellin, Colombia, November 29, 2016. [Photo/Agencies]
LA UNION, Colombia/ CHAPECO, Brazil, Nov 29 (Reuters) - A charter plane carrying Brazilian soccer team Chapecoense to the biggest game in its history crashed in the Colombian mountains after an electrical fault, killing 75 people on board, authorities said on Tuesday.
Colombia's worst air disaster in two decades came as the team from Brazil's top soccer league flew to face Atletico Nacional of Medellin in the first leg of the Copa Sudamericana final, South America's equivalent of the Europa League.
The plane, en route from Bolivia where the team had a stopover, went down about 10:15 p.m. on Monday night with 72 passengers and a crew of nine on board.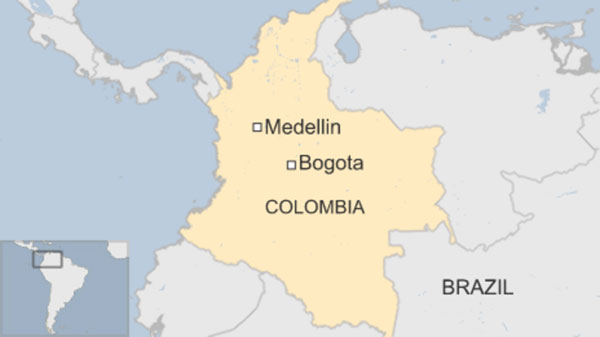 It had reported electrical problems and declared an emergency minutes earlier as it neared its destination, Medellin airport officials said.
At the crash scene near the town of La Union in wooded highlands outside Medellin, dozens of bodies were laid out and covered with sheets around the wreckage of the BAe 146.
The plane was shattered against a mountainside with the tail end virtually disintegrated. Rain hampered dozens of rescuers as they combed the muddy and forested area.
Colombia's civil aviation head, Alfredo Bocanegra, said there were 75 confirmed fatalities, with six injured survivors. They were listed as three players, a journalist and two members of the flight crew. Two of the six were in grave condition.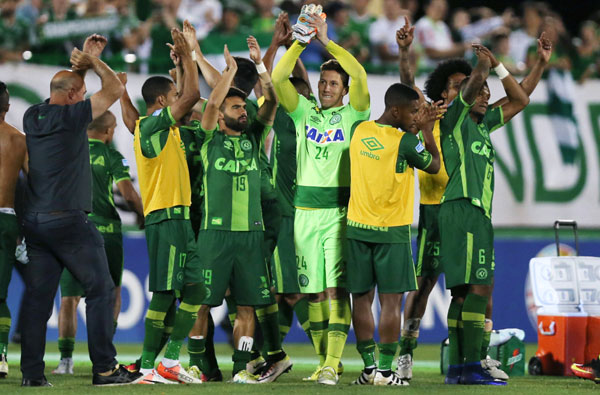 Players of Chapecoense celebrate after the match against San Lorenzo at Arena Conda stadium, Chapeco, Brazil, Nov 23, 2016. [Photo/Agencies]
It was the first time Chapecoense, a small club from the southern Brazilian town of Chapeco, had reached the final of a major South American club competition.
Brazilian news organizations said 21 journalists had been on board the plane to cover the match.
Global soccer was stunned, matches were canceled around South America, and Brazil declared three days of mourning.
"I express my solidarity in this sad hour during which tragedy has beset dozens of Brazilian families," President Michel Temer said.
Colombian President Juan Manuel Santos tweeted his condolences. "Solidarity with the families of the victims and Brazil," he said.
Colombia's civil aviation authority named the survivors as players Alan Ruschel, Jackson Follmann and Hélio Neto; journalist Rafael Valmorbida; air stewardess Ximena Suarez and flight technician Erwin Tumiri.
Flight tracking service Flightradar24 said on Twitter the last signal from flight 2933 was received when it was at 15,500 feet (4,724 m), about 30 km (18.64 miles) from its destination, which sits at an altitude of 7,000 feet (2133 m).
The BAe 146 was produced by a company that is now part of the UK's BAE Systems
The team flew Brazilian airline Gol to Santa Cruz in Bolivia and then took a flight from there to Medellin on the plane run by a Bolivian-based, Venezuelan-owned company called LaMia.