Political calls mount for S Korean president to leave ruling party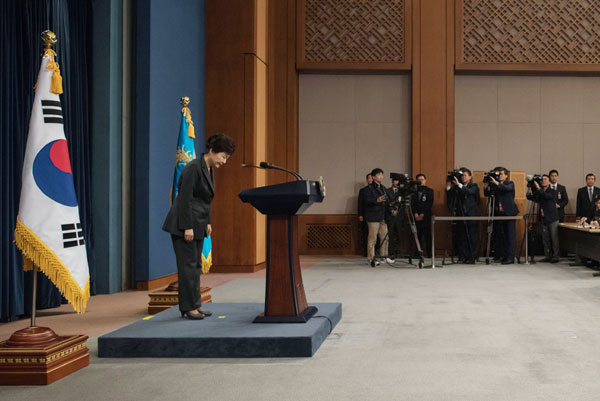 South Korean President Park Geun-Hye (L) bows prior to delivering an address to the nation, at the presidential Blue House in Seoul on November 4, 2016. [Photo/Agencies]
SEOUL -- Calls from politicians mounted in South Korea for President Park Geun-hye to leave the ruling Saenuri Party amid growing public demand for Park's resignation.
Former Saenuri Party chairman Kim Moo-sung held an emergency press conference on Monday, saying President Park must drop her party affiliation with a sense of responsibility to save the party.
Kim, seen as one of key men in the non-President Park faction within the ruling party, denounced the embattled president for damaging the constitution in running the country.
President Park made her second public apology on Friday over a scandal involving her longtime confidante and former aides, but tens of thousands of protesters demanded Park's resignation on Saturday at a nationwide rally where organizers estimated about 300,000 people had gathered across the country.
Non-Park faction lawmakers have called on the president to bolt from the governing party, which has seen its approval rating tumble together with President Park whose support scores dropped to 5 percent. It was the lowest for any South Korean president, according to a local pollster survey released on Friday.
Kang Seok-ho, one of non-Park faction lawmakers, announced his resignation as the supreme member of the Saenuri Party leadership, composed of nine supreme members.
Kang demanded an overhaul of the ruling party and a new leadership composed of new figures, calling on President Park to distance herself from state affairs.
Senior non-Park faction members, who are in the third parliamentary term or higher, held a separate meeting earlier, asking Seanuri chairman Lee Jung-hyun to immediately step down. The chairman is former key advisor to President Park.
The party leadership, including the chairman, has refused the calls for resignation. Lee told the leadership meeting that he should be allowed to maintain his post in order to have time and help the embattled president.