China, Pakistan elevate relations, commit to long-lasting friendship
Updated: 2015-04-21 05:02
(Xinhua)
Comments
Print
Mail
Large
Medium
Small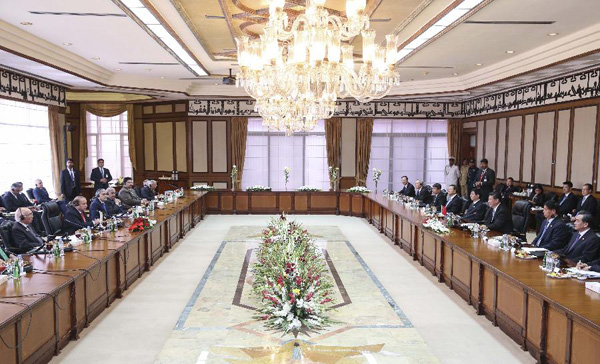 Visiting Chinese President Xi Jinping holds talks with Pakistani Prime Minister Nawaz Sharif in Islamabad, capital of Pakistan, April 20, 2015.[Photo/Xinhua]
Xi said that his visit is aimed at building a strategic framework for the China-Pakistan cooperation for the coming five to 10 years.
For his part, Sharif reiterated: "The Pakistan-China friendship is higher than mountains, deeper than oceans, sweeter than honey, and stronger than steel."
The two leaders also planted a tree of friendship at the PM House.
In addition, they jointly unveiled cooperation projects of the China-Pakistan Small-sized Hydro Power Technology National Joint Research Center in Pakistan, and the Chinese Culture Center in Islamabad. They also attended a video connection event for a photovoltaic (PV) project.
A joint declaration was issued after the talks, in which the two countries set a target of lifting bilateral trade to 20 billion U.S. dollars in three years, up from the current 16 billion dollars.
The two sides also pledged to make concerted efforts to resolutely crack down on the Eastern Turkistan Islamic Movement (ETIM), a U.N.-listed terror group.
The two leaders also witnessed the signing of more than 50 cooperation deals covering transport infrastructure, energy, agriculture, trade, finance, health, local affairs, media, ocean sciences and education.
After Pakistan, Xi will fly to Indonesia to attend the Asian-African Summit and activities to commemorate the 60th anniversary of the Bandung Conference.
Schedule
Chinese President Xi Jinping will visit Pakistan and attend the Asian-African Summit and activities commemorating the 60th anniversary of the Bandung Conference in Indonesia from April 20 to 24.

April 22
Attend the opening ceremony of the Asian-African Summit;
Meeting with Indonesian President Joko Widodo;

April 23
Bilateral meetings;
Attend the closing ceremony of the Asian-African Summit;

April 24
Historical walk from Savoy Homann Hotel to Gedung Merdeka;
Attend activities commemorating the 60th anniversary of the Bandung Conference;