China, Pakistan elevate relations, commit to long-lasting friendship
Updated: 2015-04-21 05:02
(Xinhua)
Comments
Print
Mail
Large
Medium
Small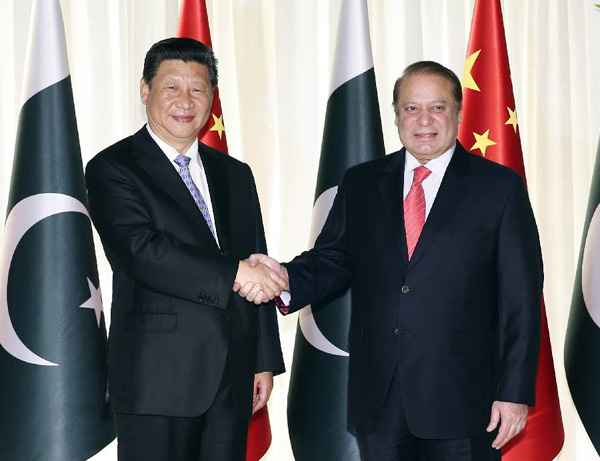 Visiting Chinese President Xi Jinping (L) holds talks with Pakistani Prime Minister Nawaz Sharif in Islamabad, capital of Pakistan, April 20, 2015. [Photo/Xinhua]
ISLAMABAD - China and Pakistan, which have long viewed each other as "iron friends," upgraded their relations to all- weather strategic partnership of cooperation Monday, eyeing perpetual friendship from generation to generation.
The consensus was reached as visiting Chinese President Xi Jinping held talks with Pakistani Prime Minister Nawaz Sharif, who also agreed to constantly enrich the China-Pakistan community of shared destiny.
"China and Pakistan have always trusted, understood and supported each other, and are all-weather friends," said Xi, citing that the two countries helped evacuate each other's citizens from war-torn Yemen not long ago.
Xi arrived in Islamabad Monday for his first state visit to Pakistan, which is also the first stop of his first overseas visit this year.
"The Chinese side highly values its relationship with Pakistan, and has always placed the relationship on a priority position in its foreign policy agenda," Xi told Sharif during the talks.
Sharif said the Pakistani government and people have long anticipated Xi's visit.
"The Pakistan-China friendship is the cornerstone of Pakistan's foreign policy, and the Pakistani people treasure the brotherly relationship with China," he said.
Schedule
Chinese President Xi Jinping will visit Pakistan and attend the Asian-African Summit and activities commemorating the 60th anniversary of the Bandung Conference in Indonesia from April 20 to 24.

April 22
Attend the opening ceremony of the Asian-African Summit;
Meeting with Indonesian President Joko Widodo;

April 23
Bilateral meetings;
Attend the closing ceremony of the Asian-African Summit;

April 24
Historical walk from Savoy Homann Hotel to Gedung Merdeka;
Attend activities commemorating the 60th anniversary of the Bandung Conference;