India successfully launches 7 satellites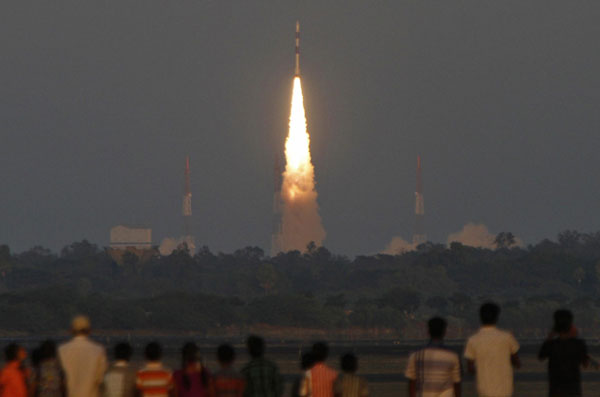 India's Polar Satellite Launch Vehicle (PSLV) C-20 blasts off, carrying Indo-French satellite SARAL from the Satish Dhawan space centre at Sriharikota, north of the southern Indian city of Chennai Feb 25, 2013. The Indian rocket carried seven satellites - the Indo-French satellite SARAL, world's first smart phone-operated nano satellite, a space telescope satellite and four other foreign satellites, local media reported on Monday.[Photo/Agencies]
NEW DELHI - India Monday successfully launched into space seven satellites, including an Indo-French satellite called SARAL, from the spaceport of Sriharikota in the southern state of Andhra Pradesh, sources said.
The state-owned Indian Space Research Organization (ISRO)'s home-made polar satellite launch vehicle (PSLV) blasted off at 6:01 pm local time, carrying 410-kg SARAL, aimed at oceanographic studies, and six other small satellites from Austria, Britain, Canada and Denmark, and successfully put all of them into orbit.
The ISRO-built SARAL with payloads -- Argos and Altika -- from French space agency CNES will help enhance the understanding of the ocean state conditions.
India began its space journey in 1975 with the launch of Aryabhatta using a Russian rocket and it has completed 100 missions so far.