Fresh start for ancient village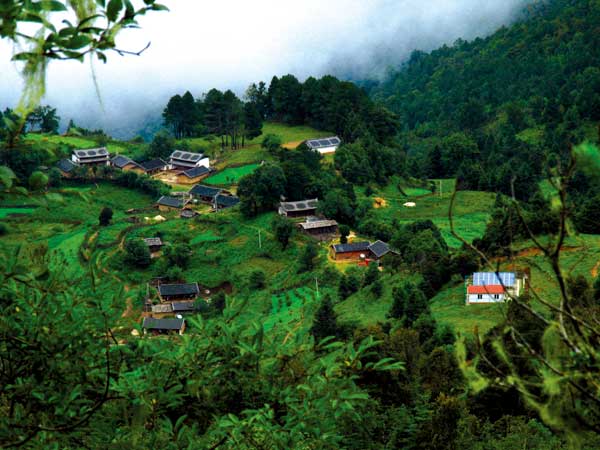 Boduoluo village near the ancient town of Lijiang in Yunnan province is now covered by lush forests thanks to the efforts of environment activists and local villagers.
"Wood cut down from here was bought by outside peddlers at a very low price, and sold to Lijiang, sometimes even outside of Yunnan at a very good price," Liu Zhengkun says.
He vividly remembers there was even competition for wood cutting in 1985, when the Naxi ethnic group, who lived at the foot of the mountain, rushed to Boduoluo and started cutting their trees because trees in their area had already been cut down.
"That was the time when the country was going through massive construction, and since the late 1990s, large amounts of wood were transported to Lijiang to support tourism construction there," Liu Zhengkun recalls.
Like all the middle-aged men in Boduoluo village, wood chopping has left Liu Zhengwei with ugly wounds on his calves that are still visible after 20 years.
However, the scars are more than skin deep.
It did not take long for villagers in Boduoluo to feel the pain of deforestation. Wind damage, floods and landslides started to hit the village more frequently as the village lost its protection from the forest.
A devastating flood hit the area in the late 1990s, and a family with three people, mother, father and son, were killed.
That was when Liu Zhengwei and the other villagers met Yu Xiaogang, a 62-year-old environment activist who was pursuing his doctorate degree at the Asian Technology Institute in Thailand, majoring in watershed management.
"Watershed management is a new trend worldwide and China did not even know what it was back then," Yu recalls. "I was in Boduoluo to study the protection of natural forest in the upper and middle Yangtze River for my doctorate degree thesis."
Yu was shocked at the bare mountain.
Yu later abandoned his degree to devote himself to forest restoration. In 2002, he founded an environmental protection non-governmental organization called Green Watershed, in Kunming, Yunnan.
This confused Liu Zhengkun and his fellow villagers at first.
Related: Life in the village is hard but warm