Seeds of hope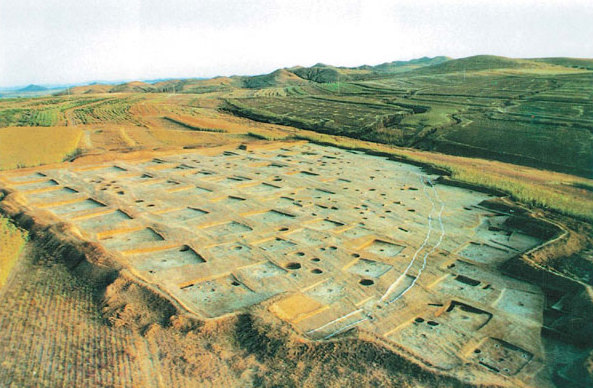 The excavation site at Xinglongwa village, Aohan Banner, the Inner Mongolia autonomous region is considered the birthplace of dryland farming. Provided to China Daily
Ancient millet varieties from an arid swathe of Inner Mongolia could provide food security as growing water shortages threaten agriculture globally. Wang Kaihao reports in Aohan Banner, Inner Mongolia.
While many farmers are struggling to go organic, Aohan Banner's agrarians have no choice.
But that has also won them a United Nations designation for agricultural heritage and offers potential solutions to food crises.
The sandy dryland - created by annual rainfall ranging from 310 to 460 mm, and punctuated by frequent droughts - and undulating topography in the east of the Inner Mongolia autonomous region's Chifeng city makes mechanized farming impossible.
Farmers plant much in the way they have for millennia.
More than 1,400 grains of millet dating to about 7,650 years ago were discovered during a 1980s excavation in the banner's Xinglongwa village.
It's the world's oldest and largest-scale millet production site ever discovered, Institute of Archeology at Chinese Academy of Social Sciences researcher Zhao Zhijun says.
The site's also hailed as the birthplace of dryland farming.
The United Nation's Food and Agriculture Organization listed Aohan's drylands among the Globally Important Agricultural Heritage Systems in September 2012.
It joined 25 "remarkable land use systems and landscapes, which are rich in globally significant biological diversity evolving from the co-adaption of community with its environment and its needs and aspirations for sustainable development". Eight of the sites are in China.
For more Eco-China, here
For Organic Life, here