Fresh start for ancient village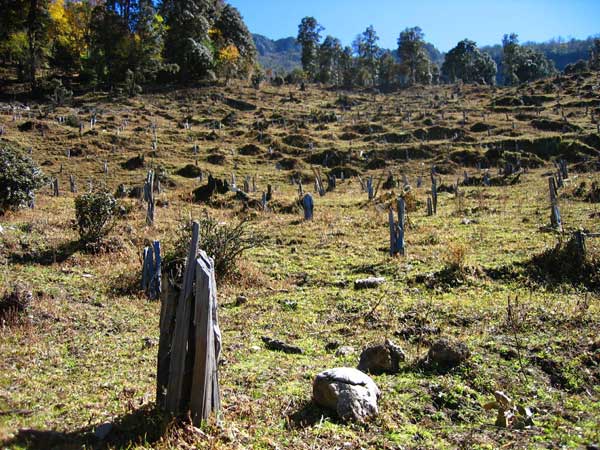 A picture taken in 2000 features forests cut down in Boduoluo village, when villagers earned their living by selling wood. Photos Provided to China Daily
Decades of logging left the people of Boduoluo village battling natural disasters brought about by deforestation. Now, a shift toward eco-tourism is reviving the remote area's fortunes. Zhang Yue reports.
Related: Life in the village is hard but warm
The weeklong National Holiday was very busy for Liu Zhengwei, a 40-year-old farmer of Boduoluo village in Yunnan province.
Since 2008, the seven-day holiday has become the village's busiest season for tourists, and Liu, together with 96 others from the village's 31 families, have been busy guiding and accommodating visitors from all over the country and the world.
"This is not even the best time to visit Boduoluo village," says Liu, who provided accommodation for several tourists over the holiday. "The most beautiful time for Boduoluo is from April through August, when all the azalea on the mountain are in full bloom."
Azalea and forests give Boduoluo village beautiful views. Yet only a decade ago, local villagers earned their living by cutting down these trees.
The village, composed of the Yi ethnic group, is located in between two mountains, and is only 20 km from the old town Lijiang. Due to the village's high altitude of 3,200 meters and cold weather, very few crops can survive here and for decades local villagers relied on growing potatoes for food and cutting wood for money.
"People from other villages usually do not call the village by its full name, instead, they mock the village as 'potato plant' because we are too poor and only have potatoes to eat," Liu recalls.
Everything else had to be brought in from the foot of the mountain, which is at least three hours' walk. With very limited cash, villagers used potatoes to trade for rice and vegetables.
Besides potato, there is another thing that local villagers are good at harvesting: wood.
Today, Liu is unable to remember how he learned to chop wood when he was a teenager 20 years ago.
"You do not have to learn it particularly," he recalls. "Every man in the village knows well how to do it. Watch a few steps, learn about not hurting yourself, and then you join the rush."
According to 66-year-old Liu Zhengkun, former village director but more widely known as the "old village director", the wood chopping in Boduoluo reached its peak between 1985 and the late 1990s.