Hamilton wins Chinese Grand Prix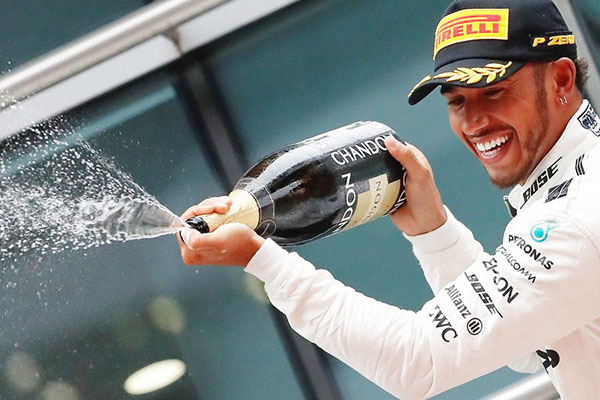 Mercedes driver Lewis Hamilton of Britain celebrates with champagne on the podium after winning the Chinese Grand Prix at the Shanghai International Circuit on April 9, 2017. [Photo/Agencies]
Mercedes' Lewis Hamilton mastered mixed conditions to win the Chinese Formula One Grand Prix on Sunday, leading the race lights to flag.
The triple world champion crossed the line 6.2 seconds ahead of Ferrari's Sebastian Vettel. Red Bull's Max Verstappen came home in a surprise third place after starting 16th on the grid.
Hamilton and Vettel now share the lead of the driver's championship, with Mercedes ahead by one point in the constructor's.
The triple world champion took his first win of the season and fifth career victory in Shanghai, and striking back for Mercedes after Ferrari took the top step at the season opener in Melbourne.
The action-packed race got off to a wet start, and though it didn't have as much overtaking as last year's race, saw plenty of wheel-to-wheel action.
"Today was very, very tough for us all. It was difficult to know. I went out in inters initially, on the laps to the grid, and then I tried the slick and it was impossible," said Hamilton after the race."Then we all started on inters and it was very, very hard, because there was a lot of dry patches everywhere, mostly dry except for a couple of corners that were wet."
At the start, Hamilton kept the lead from Vettel, who dived into the pits for dry tires after a virtual safety car was deployed for a collision between Force India's Sergio Perez and the Williams of Lance Stroll.
However, the deployment of the actual safety car two laps later when Antonio Giovinazzi's Sauber aquaplaned into the pit wall, meant that Vettel's advantage was lost.
The German found himself stuck behind a battle for third between Daniel Riccardo and team-mate KimiRaikkonen. After following the pair for 10 laps, Vettel finally managed to get past, ducking up the inside of Raikkonen, and then spectacularly passing Riccardo through turns 6 and 7.
"The safety car came just when I was about to start to feel that the dry tire was a lot quicker, so I couldn't use the momentum, the advantage and I lost a lot of positions. But then I had a very exciting race; I really enjoyed it," Vettel said from the podium.
Riccardo finished fourth, just 0.8 seconds behind his team-mate, closely followed by Raikkonen in fifth. Bottas came home in sixth after spinning behind the safety car.
TorroRosso's Carlos Sainz, Haas driver Kevin Magnussen, and Force India's Sergio Perez and Esteban Ocon completed the points paying positions.
Mclaren's 2017 woes continued with both cars retiring with mechanical issues.
Most Popular
Highlights
What's Hot