Podolski gets perfect send-off with winning goal for Germany
DORTMUND — Sometimes, there really is a fairy-tale ending.
In his last international game in a 13-year career, Lukas Podolski struck a brilliant winning goal to sign off by giving Germany a 1-0 win over England in a friendly on Wednesday.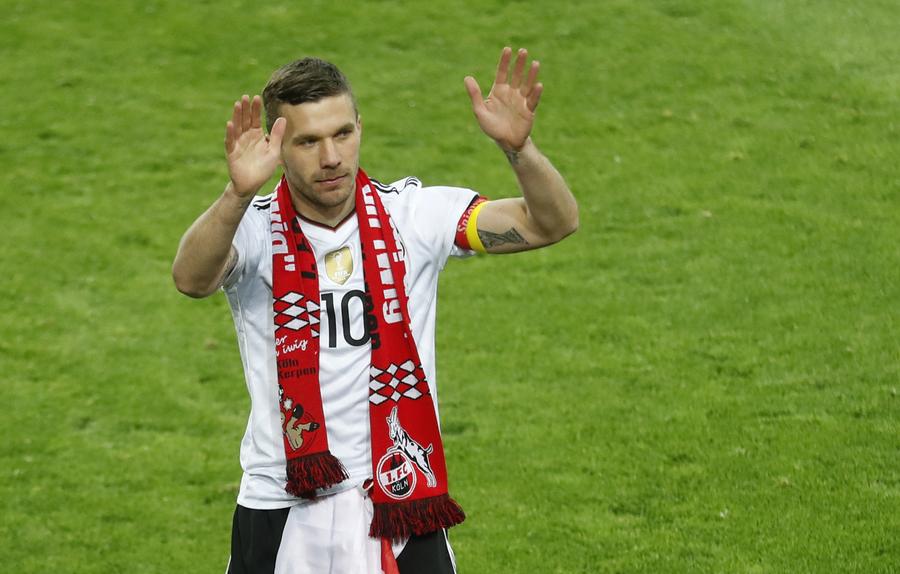 Germany's Lukas Podolski acknowledges fans after his final appearance for his country in the international friendly in Dortmund, Germany on March 22, 2017. [Photo/Agencies]
Podolski led the side out as captain for the first time in his last international, and he hammered the ball to the top right corner from 25 meters (yards) to win it with just over 20 minutes remaining.
England goalkeeper Joe Hart was given no chance, and Podolski had a look of incredulity as he wheeled away to celebrate.
"I don't know how much he paid for the England goalkeeper to let it in," World Cup-winning teammate Thomas Mueller joked.
"Normally fairy tales don't happen in football," England coach Gareth Southgate said.
The 31-year-old Podolski had been honored before his 130th game for Germany and had his name chanted by fans during the match. He received a standing ovation when he went off in the closing stages, and he joined fans to return their affection after the game.
"The way it ended today was like a film," Podolski said. "We win 1-0 and I score the thing."Only 1990 World Cup-winning captain Lothar Matthaeus and all-time top-scorer Miroslav Klose have made more appearances for Germany.
"Special players deserve a special farewell. It's great for him," Germany coach Joachim Loew said.