China edges South Korea 1-0 to keep World Cup hope alive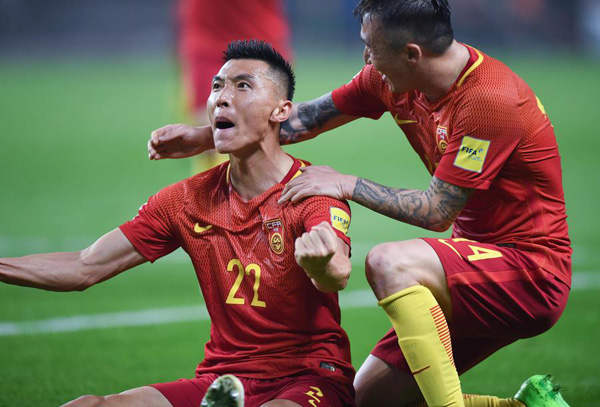 Chinese forward Yu Dabao celebrates after scoring the winning goal during a World Cup qualification match against South Korea in Changsha of Central China March 23, 2017.  [Photo/Xinhua]
CHANGSHA, China -- China's hope to qualify for the 2018 World Cup has been rekindled as Italian coach Marcello Lippi led Team Dragon to a 1-0 home win here on Thursday.

Yu Dabao headed in the Wang Yongpo corner in the 34th minute to give China the first win in six matches at the third phase of the World Cup Asian Zone qualifiers.

"Before the match, we knew the importance to win this match. And we worked hard to get the three points we must get. But it is not enough to win a ticket to World Cup. We need to continue this momentum and win the following matches," said Lippi, who will lead China to visit Iran on March 28.

For Yu, he and his teammates had to fight both the strong opponent and mounting pressure from expectant home fans.

"We were under great pressure before the game and now we have laid a good foundation with the three points," said Yu. "It has always been crucial to grasp whatever chances you have and thank the coach so much for believing in me."

The victory temporarily moved China out of the bottom of the 6-team Group A where Iran stands atop with 11 points from five matches, ahead of South Korea on 10 after six games. Uzbekistan sits in third with nine and Syria is fourth with eight. Qatar lies bottom of group after five matches.

With four games left, China, collecting five points in the provisional fifth place, still has chance to earn a qualification ticket. The top two in Group A and Group B will advance to Russia 2018 directly after a home-and-away round-robin, while the third-place finishers from both groups will have a playoff with the winner going on to face the fourth-placed team from CONCACAF zone for a berth.

"We still have space to improve. In the first half, we played too defensively in front of the opponent's pressure. Yu's goal from Wang's corner was what we trained lots of times in the past week," said Lippi. "It was not our best form and lineup. We can do better in the next match."
Most Popular
Highlights
What's Hot