Barcelona makes history with 6-1 comeback win over PSG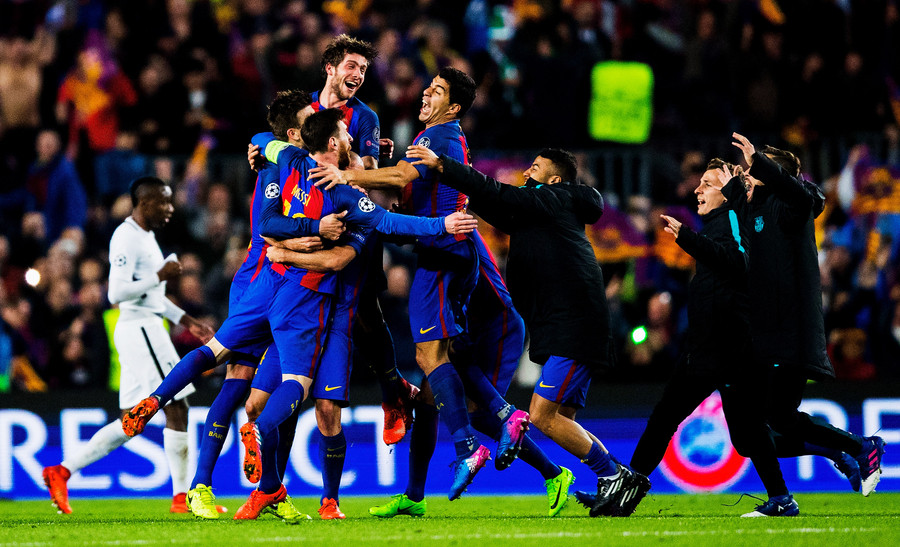 Lionel Messi of Barcelona celebrates with his team after winning 6-1 the UEFA Champions League Round of 16 second leg match between FC Barcelona and Paris Saint-Germain at Camp Nou on March 8, 2017 in Barcelona, Spain. [Photo/VCG]
BARCELONA  — Barcelona completed the biggest comeback in Champions League history by beating Paris Saint-Germain 6-1 to reach the quarterfinals on Wednesday, scoring the decisive goal of a 6-5 victory on aggregate in the fifth minute of stoppage time.
With Neymar on inspired form, Barcelona scored three times from the 88th minute. Sergi Roberto's dramatic late goal set up by Neymar sent the Nou Camp fans wild and made their team the first to overturn a 4-0 first-leg defeat since the Champions League format started in the 1992-93 season.
PSG seemed certain to go through after Edinson Cavani scored a valuable away goal following Barcelona's opening salvo of three goals, which included a Lionel Messi penalty.
Barcelona needed three more goals to advance, and the feat seemed impossible even after Neymar found the net with a free kick in the 88th minute.
But the Brazil striker converted a penalty in the 90th and then followed up with a chipped pass for substitute Roberto to steer the ball beyond goalkeeper Kevin Trapp in injury time.
"This is the best match of my career," Neymar said. "It was difficult after the match in Paris. For the past week I have been crazy to play this match, and we have made history.
"I just told Sergi Roberto to get in the area, that he would score a goal."The winner sent Barcelona's bench flooding onto the pitch as the stadium celebrated the club's 10th consecutive appearance in the quarterfinals. Coach Luis Enrique, who announced he would leave the club this summer, embraced Neymar and any other player or staff member within reach.
"What defines this victory is faith, the faith of my players, the faith of our fans. No child or adult here at Camp Nou will forget this night," Luis Enrique said. "I have never seen a better communion between team and supporters. We overran them, they didn't cross midfield."Barcelona played with all the intensity that PSG was lacking for the entire match, and didn't need its trademark passing attacks to get its first three goals.