Mourinho blasts 'brainless' Shaw
United manager again chastises defender despite improved effort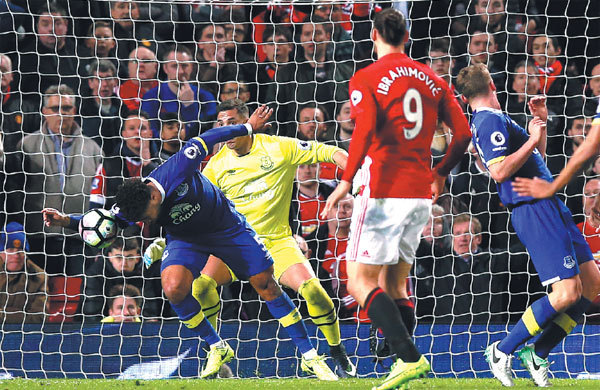 Everton's Ashley Williams handles in the area to earn a red card and concede a stoppage-time penalty, which Zlatan Ibrahimovic converted to earn Manchester United a 1-1 English Premier League draw at Old Trafford, Manchester, on Tuesday. [Photo/Agencies]
MANCHESTER, England - Manchester United manager Jose Mourinho has told Luke Shaw to improve his understanding of the game if he wants to win a regular place in the lineup.
Shaw came off the bench for his first appearance in a month against Everton on Tuesday and won the stoppage-time penalty that allowed Zlatan Ibrahimovic to earn United a 1-1 draw.
But having strongly criticized Shaw after dropping him from the squad for Saturday's 0-0 draw with West Brom, Mourinho again took the 21-year-old leftback to task.
"He had a good performance, but did not use his brain. It was his body with my brain," Mourinho said.
"He was in front of me and I was making every decision for him.
"We need at this level the fantastic body to play football, but he cannot play (by relying on) my understanding of the game.
"He must understand, he must think, he must accelerate the process. He is 21, he is old enough to have a better understanding of the game. But today he had a more positive feeling."
Phil Jagielka's 22nd-minute opener looked poised to condemn United to a first loss in 20 league games.
But deep into stoppage time Shaw's shot was handled by defender Ashley Williams, who was sent off, and Ibrahimovic converted from the spot on his return from a three-match suspension.
Mourinho's side has scored just once from 36 attempts on goal in its past two matches, and the manager is demanding a better conversion rate.
He admitted that striker Marcus Rashford, without a league goal since September, is short on confidence.
"It's easy to see in the kid," Mourinho said. "He is desperate. He tries. It's not a surprise for me. The second year after the first one is difficult.
"It happened with Ryan Giggs - he appeared as a kid and then the next year was not the same. The kid (Rashford) is phenomenal, an amazing professional."
'Amazing run'
Reflecting on a result that left United four points off the Champions League qualification zone, Mourinho said: "Twenty matches unbeaten is amazing. In the modern Premier League, it's very difficult to do it. But we need to score goals to win matches.
"We almost lost the game against West Brom because of a bad mistake. Today we almost lost the game because of a bad mistake.
"There is not one match at home that doesn't have emotion because we go until the end and we try and we change system and we try. But we don't score enough goals."
Toffees boss Ronald Koeman rued his side's failure to score a second from some promising second-half counter attacks.
Koeman had no complaints about referee Neil Swarbrick's decision to give United a late penalty and show Williams red, but felt his team should have secured the three points.
"We lost two points because we did a really good job tonight. We controlled the game," he said.
"Maybe in the first 10 or 15 minutes, United was the better team. But we controlled the game well, defending well.
"We have to score the second. Even not scoring the second, I was comfortable because I know we need to defend.
"It's difficult with Zlatan, Marouane Fellaini, Paul Pogba in the box, tall people. But we were well organized and stood up well.
"The penalty, it's hard to take. It's the right decision, but one minute and you win the game.
"It's painful, and it's difficult for the boy Williams because he had played well. But if you can't win, don't lose."
Koeman indicated that he would speak to forward Kevin Mirallas about his angry reaction to being substituted midway through the second half.
The Belgium international refused to shake his manager's hand.
"I can understand players if you substitute them that they are a little disappointed," Koeman said.
"But that's not how you react and I will speak about that with him."
Agence France-Presse
Fast-forward to new video technology, urges Jose
Manchester United manager Jose Mourinho said his side would have beaten Everton on Tuesday, instead of drawing 1-1, had video technology been in use.
Zlatan Ibrahimovic had a 71st-minute goal ruled offside, with replays suggesting he was onside before he headed past Toffees goalkeeper Joel Robles.
Ibrahimovic eventually equalized with a stoppage-time penalty, canceling out Phil Jagielka's 22nd-minute opener as United extended its unbeaten league streak to 20 matches.
However, Mourinho claimed United was denied victory unjustly.
"With the VAR (video assistant referee), we win this game 2-1 because it's not an offside," Mourinho told BT Sport.
"But it's a difficult one for the linesman. I'm not critical of the linesman. I just say when the VAR comes, it will help everyone, especially the linesmen and referees."
VAR, which enables officials to overturn decisions after viewing replays, is being trialed internationally, but not in the Premier League yet.
The technology was used to correct two wrong decisions in Spain's 2-0 friendly win over France last month.
Agence France-Presse
Most Popular
Highlights
What's Hot