Fearless Federer survives Miami scare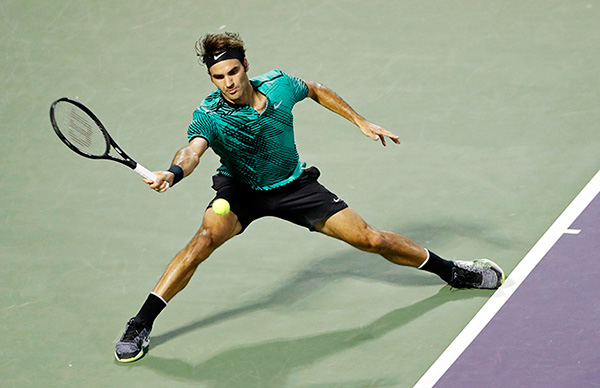 Roger Federer of Switzerland reaches for a forehand against Nick Kyrgios of Australia (not pictured) during a men's singles semi-final in the 2017 Miami Open at Brandon Park Tennis Center in Miami,Florida, US on March 31, 2017. [Photo/Agencies]
MIAMI, Florida - Roger Federer said he was "incredibly lucky" to beat Tomas Berdych in the Miami Open quarterfinals, but credited his 6-2, 3-6, 7-6 (8) victory on Thursday to playing with youthful abandon.
Federer trailed 6-4 in the third-set tie-break but fought back to reach the last four when Berdych double-faulted at the decisive moment.
"I was like, 'Wow, double fault. Are you kidding me? You're too kind, Tomas. Why? How do I deserve this one?'" Federer said.
"I don't feel like I deserved it that much, a double fault at that moment. I guess he was playing on the edge. I got incredibly lucky. Could have gone either way."
Recalling his 2010 fourth-round defeat to Berdych, Federer said: "I felt like maybe this one I should have lost and maybe I should have won the one against him here in the night session years ago."
The 35-year-old Swiss acknowledged that his experience helped him deal with the pressure of the tie-break decider, but added that he is wary of playing too cautiously in the winter of his career.
"I guess you get better over time handling pressure," Federer said.
"Then you have to be careful, I think, as you grow older, not to play too conservative when it matters. You start playing percentages way too much when you get older because you've seen too many times what can happen.
"Sometimes when you have that young mind you just go for it, and that's when actually great things do happen. You've just got to play committed tennis.
"So for me, it's always a balance between playing the percentages, yet play free and sort of young in the mind."
Federer's victory kept alive the chance of yet another encounter with old rival Rafa Nadal in Sunday's final.
It's a meeting that Federer would relish.
"It would be very cool," he said. "They have been talking about it since the beginning of the tournament, which is nice.
"I'm happy we both made it this far. I definitely got super lucky today to be in the position that I'm in, the semis.
"I would love it. It would be like a throwback to 2005, the finals we played - 2004 we played the first time ever against each other here in Miami. So that would be cool, to have that going.
"Plus Rafa going for his first Miami Open. I think that would be cool, too."
Agence France-Presse
Most Popular
Highlights
What's Hot