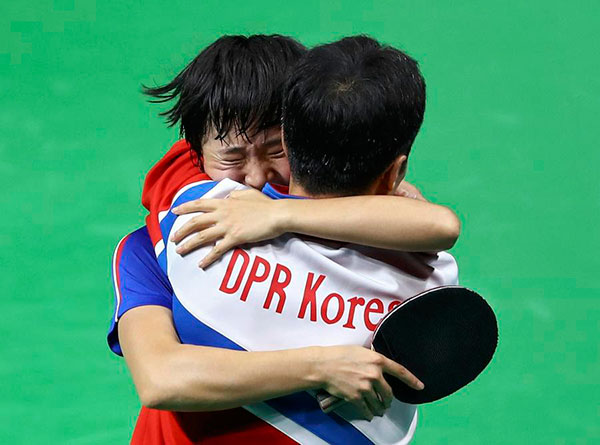 Kim Song-I of DPR Korea hugs her coach after winning her match against Ai Fukuhara of Japan during their table tennis women's singles bronze medal match at the 2016 Rio Olympics in Rio de Janeiro, Brazil, Aug 10, 2016. [Photo/Agencies]
RIO DE JANEIRO - Olympic table tennis debutant Kim Song-I of DPR Korea denied star paddler Ai Fukuhara's chance of taking a revenge for fellow Japanese Kasumi Ishikawa on Wednesday, crushing the No 6 seed 4-1 for the Rio Olympics bronze medal.
The 21-year-old, ranked world No 50, played a dated but efficient defense game and won it 11-7, 11-7, 11-5, 12-14, 11-5 in women's singles third-place match.
Trailing 2-0 and 9-1 in the third set, Fukuhara, a four-time Olympian since Athens 2004, pulled back three points in a row, but was unable to turn around the table against the chopper's fierce attack.
Fukuhara's best play came in the fourth set when she pushed it beyond 11-point, but Kim surprisingly changed her style to aggressive attack in the middle of fifth set before rounding it up 11-5.
It has been the first Olympic Games experience for Kim, who will play in the team event starting Friday with a possible second-round meet with all-time dominating China.
Later on Wednesday evening, a rematch of the women's singles final at London 2012 will pit China's Grand Slam winner Li Xiaoxia and twice world champion Ding Ning.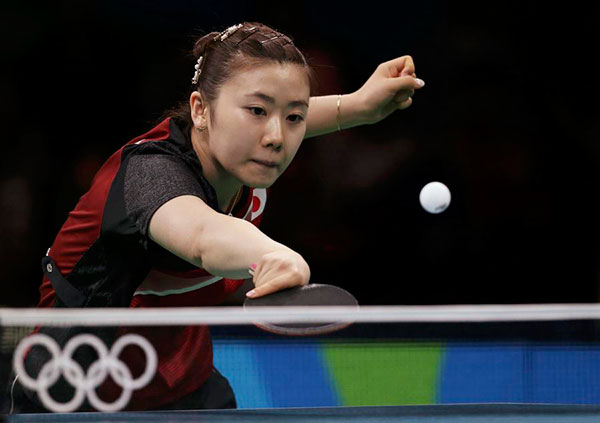 Ai Fukuhara of Japan plays against Kim Song-I of DPR Korea during their table tennis women's singles bronze medal match at the 2016 Rio Olympics in Rio de Janeiro, Brazil, Aug 10, 2016. [Photo/Agencies]