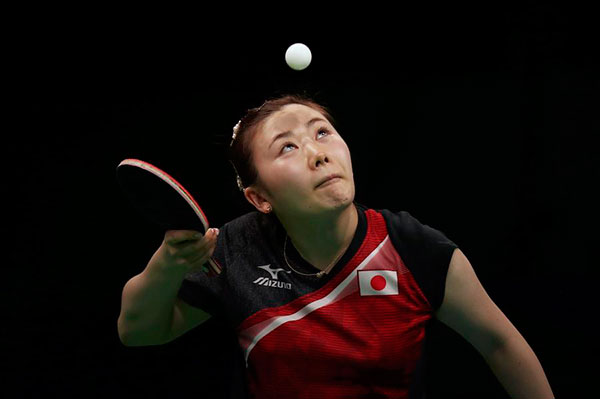 Ai Fukuhara of Japan eyes the ball during play against Feng Tianwei of Singapore in their table tennis women's singles quarterfinals at the 2016 Rio Olympics in Rio de Janeiro, Brazil, Aug 9, 2016. [Photo/Agencies]
RIO DE JANEIRO - Japanese star paddler Ai Fukuhara claimed her best result so far in an Olympic Games after the women's singles sixth seed upset Singapore's No 2 seed Feng Tianwei 4-0 here on Tuesday to make through into the semifinal of Rio 2016.
The 27-year-old "veteran", who got her name known by the world more than a decade ago, pushed Feng to 12-all in the first set on an 11-point format before she scored two points in a row to wrap it up 14-12 and never looked back.
"This must be the best game from Ai out of so many matches she played against me in the past decade," commented Feng, a 29-year-old Harbin native born in Northeast China.
"She just played fantastically and some of her reactions on court went beyond my imagination," Feng continued. "And I was not patient enough. I'll pay extra attention to that and prepare more thoroughly for the team event."
Fukuhara, on the other side, reckoned her secret of winning was to have devoted her mind to her own game.
"My coach told me before the quarterfinals to focus on my own game, rather than to think too much on irrelevant things," she said. "Also we've been well prepared for the game and better carried it out."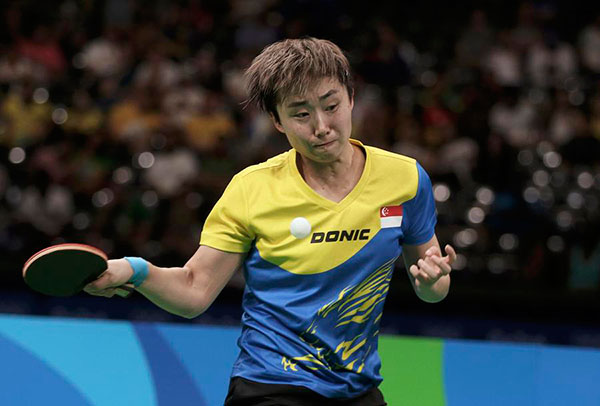 Feng Tianwei of Singapore plays against Ai Fukuhara of Japan in their table tennis women's singles quarterfinals at the 2016 Rio Olympics in Rio de Janeiro, Brazil, Aug 9, 2016. [Photo/Agencies]