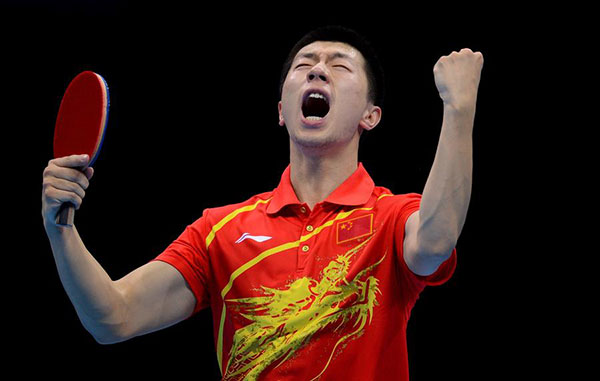 Wolrd No 1 Ma Long will lead China's charge for a golden harvest in table tennis at Rio.
Unique method of training helps calm his nerves
Ma Long has added a new twist to his Rio 2016 training regime as he tries to overcome anxiety: booze.
The world's top table tennis player, who is one of China's safest bets for a gold medal, has long dominated the world rankings - but Ma failed to qualify for the singles competition at the London 2012 Olympics.
He finally won the world championship last year on his fifth attempt, raising questions about his mental resilience.
The lanky, muscular 27-year-old from the northeastern province of Liaoning lacks nothing when it comes to technical skills and is renowned for his scorching serve and deceptive spin.
But his struggles with nerves under pressure have driven China's chief table tennis coach Liu Guoliang to focus instead on teaching his protege how to relax.
"For Ma Long, two things are most important," Liu said on the weekend.
"One is that when the pressure gets very high, to make him go to a bar and drink some alcohol. The other is to distract him with conversation."
Moderation in drinking was key, Liu said, but the goal was to get the obsessed player to "relax a bit, because the demands he usually puts on himself are very harsh".
Ma has been selected for both the singles and team events in Rio, alongside compatriot and London gold medalist Zhang Jike, whom he will attempt to prevent from becoming the first man to defend an Olympic table tennis singles title.
"I think Ma Long is the favorite to take first prize at the Olympics," Liu said.
"Now we just have to pay attention to his thought patterns and release his mental stress."
Best in the game
Some observers say Ma is the best in the history of the game, more powerful and faster than the legendary Swedish player Jan-Ove Waldner, raising expectations on the star, for whom Olympic gold is the only major singles title he has not won.
"I have to throw off the burden and the pressure," Ma said. "That's the only way I'll get the title this time."
In Rio, millions of Chinese eyes will be fixated on Ma, a celebrity in a country where table tennis is a source of national pride.
In the past, in a country that lacked top-class facilities for other sports, young Chinese who wanted to play something had few options apart from table tennis.
For decades China has been the world's top breeding ground for table tennis talent and has won 24 gold medals at the seven Olympics since the sport was added at Seoul 1988.
"Ping-pong is really seen as China's national ball sport," said Liu. "The key is the passion and popularity of the game. Other countries haven't matched us on that point."
At the London Games in 2012, China sealed its second consecutive sweep of all four golds.
The top-ranked four male players in the world are all Chinese, and in Rio Ma's stiffest competitor will likely be his compatriot Zhang.
China's dominance is so pronounced that table tennis bosses worry it discourages other countries from competing, with one International Table Tennis Federation chief describing China's hegemony as "devastating" for the sport.
But Ma does not see himself and Zhang as favorites for gold, pointing to players from Germany and Japan as potential rivals.
"The Olympics are a stage for upsets," he said.
"But in the end I hope I can win the fight."