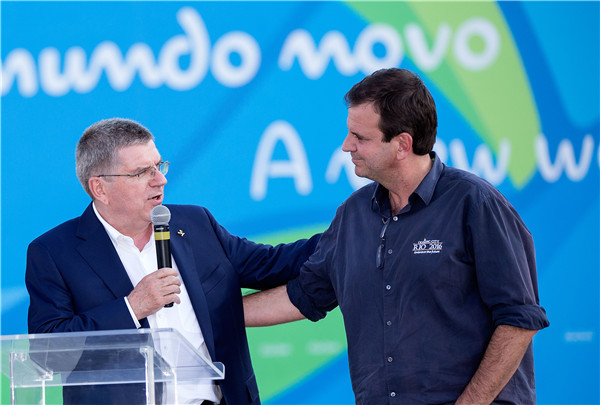 IOC head Thomas Bach (Left) meets with Rio de Janeiro's Mayor Eduardo Paes after his arrival in Rio de Janeiro, Brazil on July 27, 2016. [Photo/Xinhua]
RIO DE JANEIRO - The head of the International Olympic Committee on Wednesday played down problems with unfinished accommodation in Rio de Janeiro that have prompted some teams to abandon the Olympic village, saying he expected Brazil to host a "fantastic" games.
Arriving in the coastal city ahead of the Aug. 5 start of the first Olympics to be held in South America, Thomas Bach said every host city experienced last-minute difficulties.
Concern over Rio's readiness erupted on Sunday when the Australian delegation said it would not stay in the Olympic Village as the housing was "not safe or ready" due to leaky plumbing, blocked toilets and exposed wires.
Argentina also abandoned the village while Italy and New Zealand said they had been forced to call in workers to fix problems after organizers admitted the blocks had been handed over without proper testing of water and power systems.
"The last couple of days before the Olympics Games there is always one issue or other to be solved. The Brazilians will solve it," Bach told reporters.
"You can already feel the Olympic energy here ... We always had confidence in Brazil, in the Brazilians, that it will be a fantastic Olympic Games."
Rio de Janeiro's Mayor Eduardo Paes deployed hundreds of workmen to the Olympic village and expects to have all 31 blocks ready for use by the end of the week. So far only a fraction of the athletes have turned up, organisers say.
Australia's delegation, praising Rio's swift response, was due to complete its move back into the village on Wednesday.