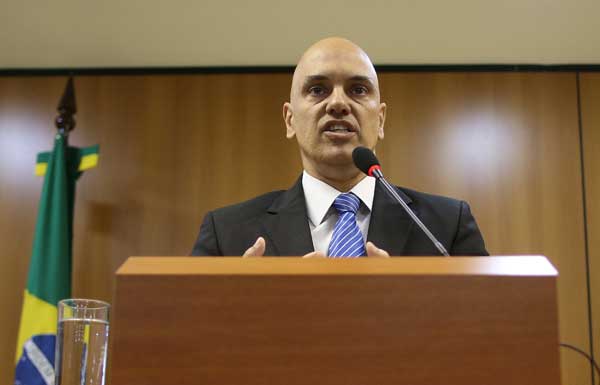 Brazil's Justice Minister Alexandre de Moraes attends a press conference on arrests made in at least two states before the start of the Rio 2016 Olympic Games, in Brasilia July 21, 2016. [Photo/Agencies]
BRASILIA -- The Brazilian government has in recent days been announcing the measures to reinforce security at the 2016 Olympic Games in Rio de Janeiro on Aug 5-21, especially after the arrest of ten people suspected of plotting terrorist acts.
In a secret operation codenamed Hashtag conducted two weeks before the Rio 2016 Olympic Games begin, 10 people were arrested in a number of states. This was announced by Justice Minister Alexandre Moraes on July 21 at a press conference, who stated that those arrested had been given temporary prison sentences of 30 days.
He said the first phase of Operation Hashtag had arrested 10 individuals believed to be part of a "suspected terrorism cell" in Brazil. Two more suspects were not arrested but are currently being searched for.
According to Moraes, Brazilian intelligence operatives had been monitoring the suspects for several months, and that these suspects had exchanged information about "preparing terrorist acts" through text messages and on social networks, such as WhatsApp and Telegram.
"From the moment that they began speaking of preparations...the government acted swiftly," he said.
"Various messages showed these people celebrating the attacks in Orlando and Nice...and posting and sharing executions carried out by the Islamic State," added the minister.
Certain suspects also released a video on the Internet swearing allegiance to the Islamic State, although there was no indication they had personal contact with members of the terrorist group or travelled outside of Brazil to meet them.
"They repeated recordings, there was no interaction. The person who pledged allegiance was made to believe they were part of the Islamic State," explained Moraes.
Last week, General Sergio Etchegoyen, chief minister of institutional security, said the Nice attack had led the government "to revise all security measures and adopt far more rigid security" for the Games.
"We must make an audit of our entire planning to see if any weaknesses exist that, for any reason, we might have missed," he added.