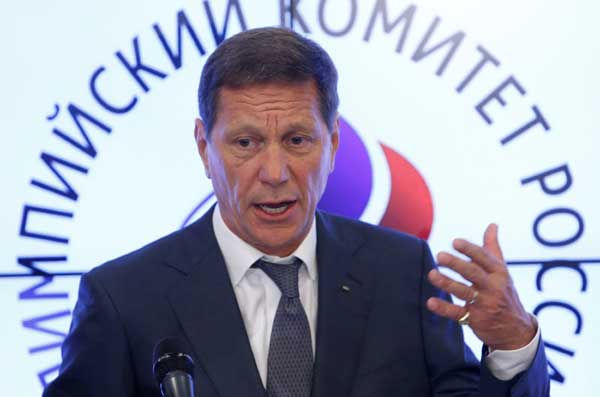 Russian Olympic Committee head Alexander Zhukov speaks during a news conference following a meeting of executive board of the Russian Olympic Committee in Moscow, Russia, July 20, 2016. [Photo/Agencies]
MOSCOW - The head of Russia's Olympic Committee, Alexander Zhukov, said on Wednesday Russia had no intention of boycotting the Rio Games to protest against the way a doping scandal was being handled, saying politics had no place in sport.
The International Olympic Committee (IOC) said on Tuesday it would consider banning Russia from the Games after a World Anti-Doping Agency investigation found evidence of a state-backed doping scheme at the 2014 winter Olympics in Sochi.
Russia is strongly opposed to such a ban and Zhukov said any unilateral decision to quit the Games would also be wrong.
"We are categorically against any boycotts for political or any other reasons," Zhukov said. "Boycotts lead only to the collapse of the Olympic movement.
"Attempts to use the Olympic Games as some kind of political weapon ... I thought that was all in the distant past," said Zhukov, referring to Cold War sporting tensions between the Soviet Union and the United States in the 1980s.
The Russian Olympic Committee said it intended to take 387 sportsmen and women to Rio, including 68 track-and-field athletes who are currently appealing a doping ban at the Court of Arbitration for Sport (CAS) in Switzerland.
A CAS ruling on their participation is expected on Thursday.
Zhukov said the majority of international sporting federations supported Russian athletes competing in Rio. He said comments by US officials calling for a blanket ban on Russian sports people were an attempt to influence the IOC's decision.
"We interpreted this as definite pressure on the IOC with the aim of excluding the Russian team," he said.