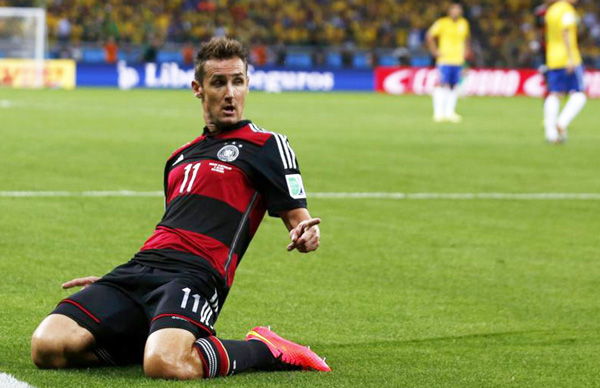 Germany's Miroslav Klose celebrates after scoring a goal during the 2014 World Cup semifinals between Brazil and Germany at the Mineirao stadium in Belo Horizonte July 8, 2014. [Photo/Agencies]
RIO DE JANEIRO - In the same week he usurped Ronaldo as the World Cup's top scorer, Germany striker Miroslav Klose said the Brazilian remains football's most complete player.
Klose, who equalled Ronaldo's 15-goal tally against Ghana in the group stage, netted his record-breaking 16th goal in Germany's 7-1 defeat of Brazil on Tuesday.
"He was an outstanding player," the Lazio striker said during a press conference on Thursday.
"I play in Italy and everyone I speak to there says that Ronaldo was the best player that ever played in Italy. For me he was the most complete player ever."
Ronaldo, now working as a television commentator for Brazilian broadcaster Globo, graciously congratulated Klose live on air during Tuesday's match.
Klose said he was grateful for Ronaldo's humility.
"Obviously it must be bitter for him that he was in the stadium when I overtook him in the match against Brazil," Klose said.
"Before he sent a message out 'Klose - welcome in the club of 15'. I can now send out this message: 'Miroslav Klose in the club of 16 and everyone's welcome to join'."
Klose is one of only three players to score at four World Cup finals - along with Brazil legend Pele and Germany's Uwe Seeler.
He is also Germany's all-time record scorer with 71 goals in 136 international matches.
The veteran forward said the record would mean nothing if Germany failed to beat Argentina in Sunday's World Cup final at the Maracana stadium in Rio.
"Anyone who knows me knows that my focus is on the match against Argentina," Klose said. "Later there will be time to enjoy having broken the record, but if we lose my happiness will be diminished."