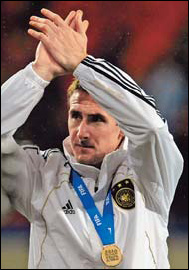 German Miroslav Klose applauds at the medal ceremony. Rodrigo Arangua / AFP
PORT ELIZABETH - Injured Mirsolav Klose was forced to surrender his pursuit of World Cup goal-scoring history on Saturday but record-holder Ronaldo still praised the German striker's achievements.
The 32-year-old Klose missed the 3-2 win over Uruguay which gave his country third place the World Cup and with it the opportunity to score the two goals he needed to pass the Brazilian's all-time World Cup best mark of 15.
"He really wanted to play but after training on Saturday he said to me that he would not be able to take his place in the team," said Germany coach Joachim Loew, who handed Klose's starting place to Cacau.
"He was disappointed but he knew we couldn't allow a player who was only 80-percent fit to take part."
The Bayern Munich star, who had been suffering from a back injury, stayed on the bench on Saturday with his World Cup goals record stalled at 14, a total made up of five at the 2002 and 2006 finals and four in South Africa.
Klose will be 36 by the time the next World Cup rolls around in 2014 in Brazil and is unlikely to feature again.
Ronaldo, who collected his 15 goals at the 1998, 2002 and 2006 World Cups, praised Klose's career.
"Congratulations to Klose, to score 14 goals at the World Cup is fantastic. It's sad that he did not play on Saturday," said the Brazilian.
"I was not opposed to him breaking my record. I have made my history. Now it is time for others to write their stories."
Agence France-Presse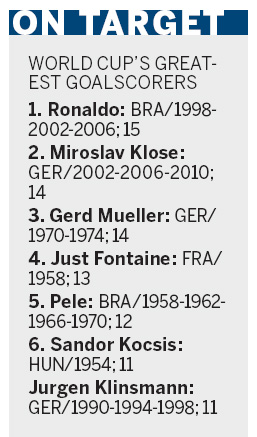 (China Daily 07/12/2010 page12)