Miroslav Klose joined the elite 100 club on Saturday, cementing his place in German football history while edging closer to Ronaldo's World Cup goal-scoring record with his brace in the 4-0 win over Argentina.
The Bayern Munich striker's 100th cap, in front of German Chancellor Angela Merkel, put him in the company of top players like Franz Beckenbauer, Juergen Klinsmann and Lothar Matthaeus as one of only nine Germans to reach the milestone.
Regarded as an old-fashioned centerforward, the 32-year-old now sits joint seventh on the list alongside defender Han-Juergen Doerner and Ulf Kirsten, one cap below Thomas Haessler.
Polish-born Klose has said he wants to remain in the national team until the 2012 European Championship in Poland and the Ukraine, which should see him better almost everyone else, with Klinsmann currently second on 108 caps.
But he is not likely to match the achievement of former captain Matthaeus, who played 150 times for his country.
The only other still active player near him is Michael Ballack on 98. Ballack was in Green Point Stadium on Saturday to see his teammate reach the milestone but was ruled out of the tournament with injury before it started.
"I'm absolutely thrilled for Klose to have scored in his 100th game, and scored twice," said German coach Joachim Loew after Saturday's quarterfinal.
"He truly is impressive, such a wonderful player. He scores more than once every two matches and those statistics don't need any more comment.
"He is outstanding and is always able to put on a top-quality performance.
"He is always very self-critical, but I am really pleased he used his 100th cap to score."
afp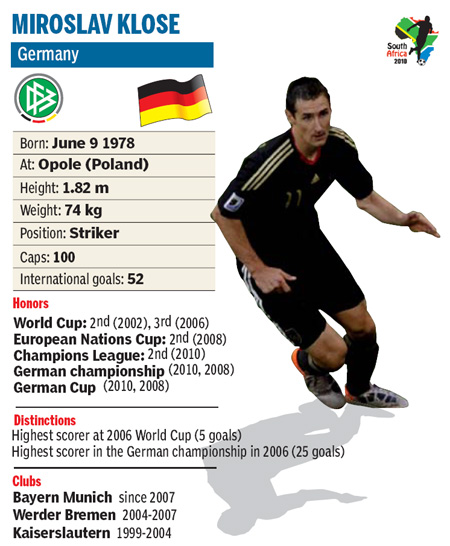 (China Daily 07/05/2010 page10)