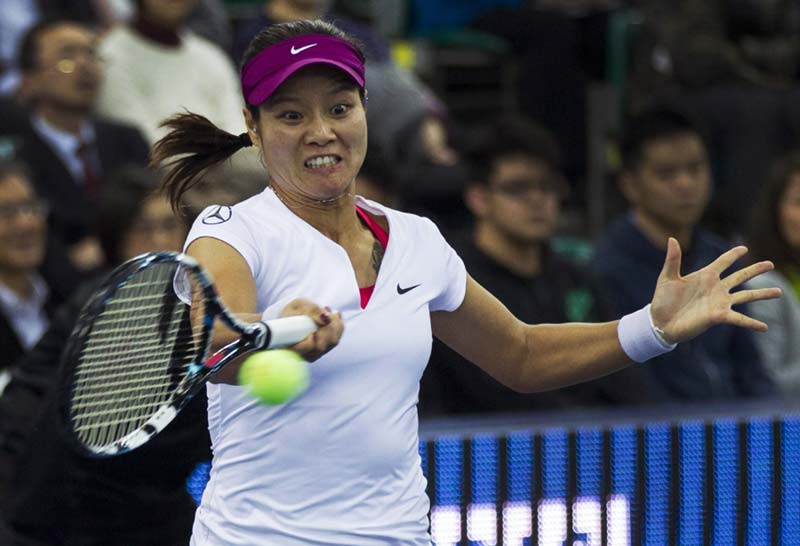 Li Na of China hits a return to Samantha Stosur of Australia during their BNP Paribas Showdown friendly tennis match in Hong Kong, March 3, 2014. [Photo/Agencies]
HONG HONG - Chinese tennis Grand Slam champion Li Na believes she is closer to the top of the tennis world.
The new-crowned Australian Open winner said ahead of the second annual BNP Paribas Showdown on Monday that a brilliant 2013 season plus the first Grand Slam of the year has boosted her confidence to win the top spot at the world rankings and another Grand Slam title.
"I want both world No 1 and Grand Slam," Li said.
Li said she had "reached her first goal" of the year by winning her second Grand Slam title after the French Open and was now seeking a third one.
"I really enjoy life now," she said. "I have learned a lot from the tennis court and won't give myself too much pressure."
Li expects more Chinese to do well in tennis. "Over 20 young Chinese played in junior events in the Australian Open and more and more Chinese youth have taken up the rackets," she said.
Li Na, Asia's first Grand Slam champion, lost to 2011 US Open champion Samantha Stosur of Australia 4-6, 3-6 in an exhibition match at the BNP Paribas Showdown in Hong Kong.
World class tennis stars gather in Hong Kong for the second annual BNP Paribas Showdown which was held as part of World Tennis Day on March 3 at the new Tseung Kwan O Velodrome.
The other match features former No 1 and two-time Grand Slam champion Lleyton Hewitt taking on current Top 10 player Tomas Berdych.
After the Hong Kong event, Li will, as the top seed, take part in the Indianapolis Tennis Championships, a WTA event she has never won.
"I am ready for Indianapolis," she said.