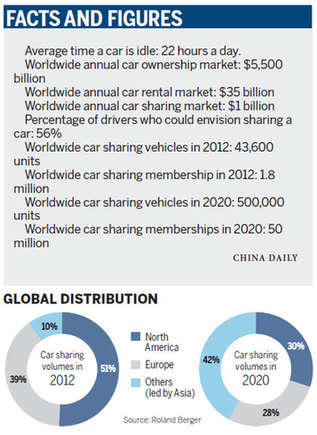 Concept holds opportunities and challenges for providers looking to capture new market
Rocketing oil prices, traffic filled roads and concerning environmental problems make car sharing a promising trend for personal mobility, according to consulting firm Roland Berger.
The concept, which originated in Europe and North America, is moving to developing countries, particularly in Asia.
Nearly 2 million people in the world have now subscribed to car sharing memberships, according to Roland Berger.
Globally, the car sharing vehicle market is expected to grow by 70 percent annually. Many providers of the service have recognized the market potential and are actively seizing opportunities with businesses and private customers as target groups.
The consulting firm said China's car sharing market is expected to grow at a rate that exceeds the global average.
In a study titled "Sharing the future - Perspectives on the Chinese car sharing market" Roland Berger identified an approximate compound annual growth rate of 83 percent for the next five years.
Andreas Maennel, principal at Roland Berger Greater China and co-author of the study, said he believed that Chinese customers have a very positive attitude towards car sharing.
"Car sharing in China is still at an embryonic stage, but is excepted to develop positively," he said.
The company's statistics show that in 2013 the scale of car sharing in China was still small, with only 780 vehicles.
However, the number is expected to grow by 83 percent annually to 16,100 vehicles in 2018.
Technological trends such as widespread mobile Internet and government support for the car sharing business in selected regions and pilot cities will be driving forces in the market.
These combined with increasing environmental awareness are expected to have a positive effect on the market.