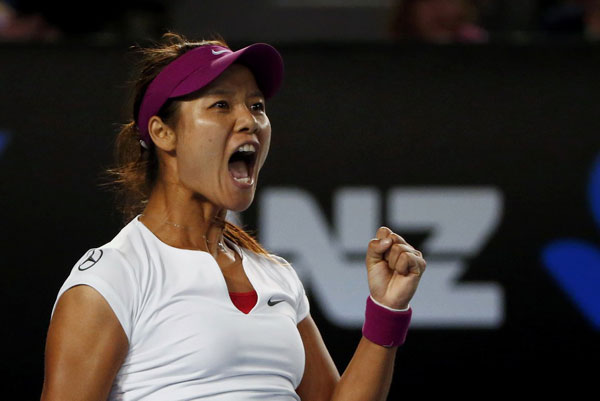 Li Na of China celebrates after winning her first Australian Open title in Melbourne January 25, 2014. [Photo/Agencies]
BEIJING -- The Women's Tennis Association (WTA) on Monday announced that Li Na and Peng Shuai have set new national records for China's tennis following their rise to career-high rankings in the latest WTA rankings.
Two-time Grand Slam champion Li becomes the first Asian player to hold the WTA World No. 2 singles ranking, while Peng is the first Chinese player to ascend to the WTA World No. 1 doubles ranking.
"I'd like to congratulate Li Na and Peng Shuai on their achievements and rise up the WTA rankings to respective career-highs," said Stacey Allaster, WTA Chairman and CEO.
"As they have done throughout their careers, both players continue to set new milestones for Chinese tennis. Their accomplishments are truly inspirational and the WTA is fortunate to have such ambassadors representing the sport around the world. I'm also thrilled that with a record number of WTA events to be held in Asia-Pacific in 2014, culminating in the WTA Championships in Singapore, Asian fans will have a unique opportunity to see their heroines in action in the months and years ahead." "To be No. 1 was a goal of mine this year. We were very close at the end of last year. It is something I have worked very hard for," said Peng.
"With Li Na going to No. 2 in singles, and Hsieh Su-Wei taking the No. 2 doubles ranking, this is a big breakthrough for Asian tennis. We are looking forward to the rest of the year and hopefully the WTA Championships in Singapore."
"To go to No. 2 in the world is definitely a proud accomplishment for me and my team," said Li. "We have worked very hard and look to improve every week. It is an exciting time for tennis in China...I'm confident that younger players will do better than what we've achieved."
Li has started the 2014 season in outstanding form, amassing a 13-1 record and winning the Australian Open and Shenzhen Open, taking her haul of WTA singles titles to nine. Having already held the record for highest ranked Asian player in history at No. 3, which she achieved following her runner-up finish at the 2013 TEB BNP Paribas WTA Championships-Istanbul, the 31-year-old has now bettered that mark.
The 28-year-old Peng teamed up with Chinese Taipei's Hsieh Su-Wei for a breakthrough year in 2013. The pair won five doubles titles, highlighted by their first major championship at Wimbledon.
The duo concluded the year by becoming the first team from Asia to win the TEB BNP Paribas WTA Championships-Istanbul. They also raised the champions' trophy at the Internazionali BNL d'Italia (Rome), Western & Southern Open (Cincinnati) and Guangzhou Open. Following their success at last week's Qatar Total Open (Doha), the pair now has a perfect 10-0 record in doubles finals. Additionally, Hsieh will move to a career-high doubles ranking of No. 2 in the world - the highest ranking ever for a player from Chinese Taipei.