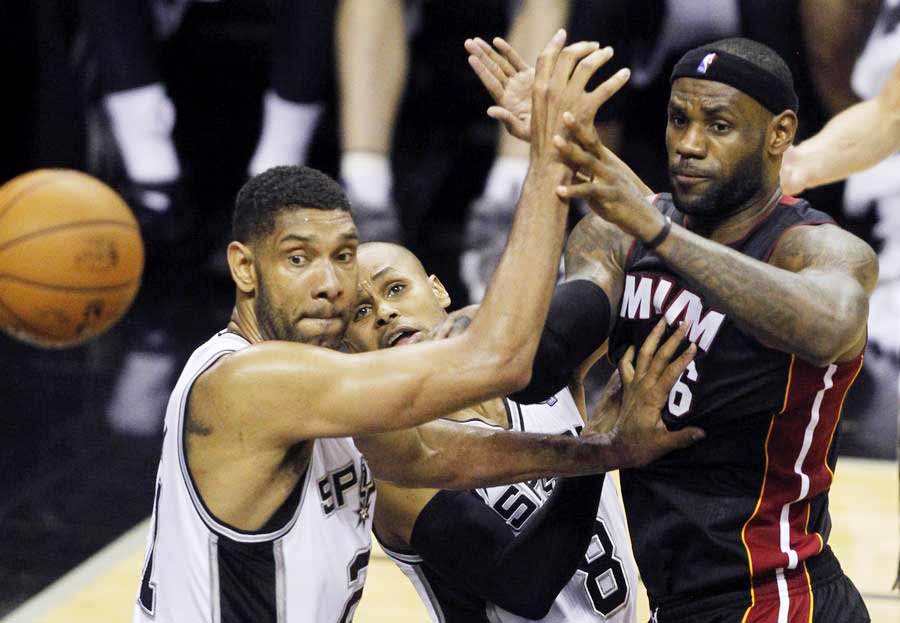 San Antonio Spurs' Tim Duncan (L-R), Patty Mills and Miami Heat's LeBron James scramble for a rebound during the second half in Game 2 of their NBA Finals basketball series in San Antonio, Texas, June 8, 2014. [Photo/Agencies]
SAN ANTONIO - No cramps, no problems for LeBron James.
And with their superstar making it to the finish this time, the Miami Heat bounced back from a loss, just as they always do in the playoffs.
"Obviously, having No 6 in the game at the end was a plus for us," Dwyane Wade said.
James had 35 points and 10 rebounds in a powerful comeback from the cramps that knocked him out of the opener, as the Heat tied the NBA Finals with a 98-96 victory over the San Antonio Spurs in Game 2 Sunday night.
Chris Bosh made the go-ahead 3-pointer on a pass from James with 1:18 remaining for the Heat, who have won 13 straight following a loss in the postseason. Just like last year, they rebounded after losing Game 1 to the Spurs.
Bosh had 18 points for the Heat, who are headed home for Game 3 Tuesday night.
James played more than 37 minutes, making 14 of 22 shots. He was 1 for 4 with three turnovers in a shaky first quarter, then made 11 of his next 13.
After two days of enduring criticism for not finishing the game and getting suggestions on how to avoid cramps, James changed the subject.
"What happened on Thursday was Thursday," James said. "My whole focus was how I was going to try to help this team even this up and just try to make some plays."
He had a key strip of Tony Parker down the stretch, playing a dominant game on both ends as if he had something to prove.
As usual, James found a way to silence his haters.
He had 11 points in the second quarter, helping Miami erase an 11-point deficit early in the period. The game was played within a margin of a few points from there, and the Spurs missed a chance to seize control in the fourth quarter when Parker and Tim Duncan missed four straight free throws when they had a two-point lead.
James then made a 3-pointer and two free throws to put Miami in position to win.
Parker scored 21 points and Duncan had 18 points and 15 rebounds for the Spurs, who had won eight straight at home by at least 15 points.
"Down the end there they executed really well," Duncan said. "LeBron made some great passes and guys made open shots. We had the same result in the first game. They kind of flipped it in this one."
The game was played in comfortable conditions inside the AT&T Center, where an air conditioning failure in Game 1 sent temperatures soaring to about 90 degrees. The broken circuit breaker was fixed by Friday afternoon, and it was much cooler inside the arena.
James had the toughest time with the heat Thursday, needing treatment midway through the fourth quarter before eventually having to leave for good. He had plenty of time to recover, with the two days off between Games 1 and 2.
He changed only a little of his routine, taking an 8 am yoga class Sunday morning and switching to a shorter pair of tights.
He personally erased a 62-56 San Antonio lead by scoring eight points in less than a minute, and his 14 points in the third quarter had Miami down only 78-77 heading to the fourth.
"For me, once I get into a good groove, I feel like everything is going to go in," James said.