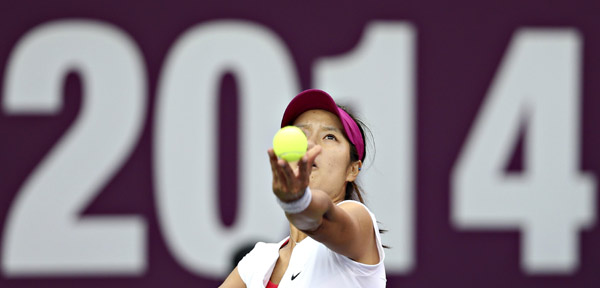 Li Na of China serves the ball to Petra Cetkovska of Czech Republic during their women's singles match at the Qatar Open tennis tournament in Doha, Feb 13, 2014. [Photo/Agencies]
Chinese women's tennis players Li Na and Peng Shuai have reached their highest world rankings as the sport reaches unprecedented popularity in China.
The Women's Tennis Association released its latest world rankings on Monday, and Li has become the first Asian to be the second ranked player in the world. She claimed her second Grand Slam crown at the Australian Open last month.
Compatriot Peng Shuai became the first Chinese player to ascent to No 1 in doubles after winning the Qatar Open with partner Hsieh Su-wei of Chinese Taipei on Sunday.
Li and Peng are among four players who were allowed by the Chinese Tennis Association in 2008 to manage their own careers while keeping most of their professional prize money.
Li, who achieved a major breakthrough by winning Roland Garros in 2011, has realized both goals she set at the beginning of 2013: cracking the top three in women's rankings and landing another major trophy following her victory in the Australian Open.
Overtaking the dominant Serena Williams, who has 17 singles major titles, as the top player in the world is likely Li's next goal. Li has the best record at 13-1 among women singles players this season.
"To go to No 2 in the world is definitely a proud accomplishment for me and my team," said Li, who ended her winning streak by losing to Czech Petra Cetkovska in the third round in Doha last Thursday.
"We have worked very hard and look to improve every week. It is an exciting time for tennis in China. … I'm confident that younger players will do better than what we've achieved," said Li, who turns 32 on Feb 26.
Li also defended her title at the Shenzhen Open to begin this year. She now has nine WTA singles titles.
Her Argentinean coach Carlos Rodriguez, who joined Li's team in the summer of 2012, said Williams isn't as invincible as she seems.
"The biggest opponent for Li is always herself," said Rodriguez, former mentor of seven-time Grand Slam winner Justine Henin. "As long as she believes in herself, she can beat anyone in the world."
Peng, on the other hand, teamed with Hsieh for a remarkable year in 2013. The pair won five doubles titles, highlighted by their first major championship at Wimbledon. The duo concluded the year by becoming the first team from Asia to win the WTA Championships in Istanbul, Turkey.
"To be No 1 was a goal of mine this year. We were very close at the end of last year. It is something I have worked very hard for," said the 28-year-old Peng.
"With Li Na going to No 2 in singles and Su-wei taking the No 2 doubles ranking, this is a big breakthrough for Asian tennis."
The rise of Chinese women's tennis has further boosted the game's popularity in the Asia-Pacific region and has inspired more teenagers to pick up tennis racquets.
"I'd like to congratulate Li and Peng on their achievements and for their rise up the WTA rankings to respective career-highs," said Stacey Allaster, WTA chairman and CEO.
"As they have done throughout their careers, both players continue to set new milestones for Chinese tennis. Their accomplishments are truly inspirational and the WTA is fortunate to have such ambassadors representing the sport around the world. I'm also thrilled that with a record number of WTA events to be held in the Asia-Pacific in 2014, culminating in the WTA Championships in Singapore, Asian fans will have a unique opportunity to see their heroines in action in the months and years ahead."
Beginning this season, there will be 10 WTA tournaments, including one in Li's home city of Wuhan, in China. Sixty percent of the WTA's 70 million active followers on social media are from China.
Related:
Li Na, Peng Shuai make history in WTA rankings
Li Na awarded 800,000 yuan by home province