Smart planning key to Xiongan's success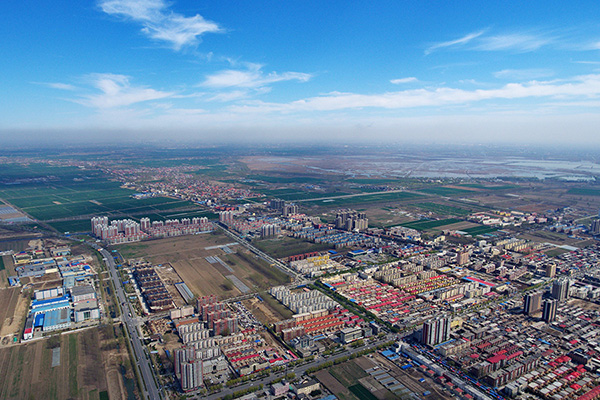 Aerial photo taken on April 1, 2017 shows Anxin county, North China's Hebei province.[Photo/Xinhua]
Xiongan New Area, a grandiose vision announced in April, is a typical example of how to promote regional integration, as General Secretary Xi Jinping pointed out in his report to the 19th National Congress of the Communist Party of China on Wednesday.
"We will relieve Beijing of functions nonessential to its role as the capital and use this effort to drive the coordinated development of Beijing-Tianjin-Hebei region; we will develop forward-looking plans and adopt high standards for building Xiongan New Area," Xi said.
The potential of Xiongan has prompted 48 enterprises, including top technology companies such as Alibaba Group Holding and Tencent Holdings, to set up branches in the new area which is about 100 kilometers southwest of Beijing and covers the counties of Xiongxian, Rongcheng and Anxin in North China's Hebei province.
That State-owned enterprises as well as high-tech innovators are taking part in the grand project signifies a key step forward for the new economic area, which aims to experiment with coordinated, innovation-driven development.
At the heart of this millennial vision is innovation, which draws inspiration from the districts in the United States that focus on innovation and the success of Shenzhen as a frontrunner of reform. In other words, Xiongan's future depends largely on top talents who prefer to work in a favorable atmosphere where public resources are abundant and daily commute efficient.
Therefore, high on the new area's agenda should be green development, a livable environment and cultural vibrancy. Apart from clean air and forest parks, Xiongan is also expected to provide affordable housing and efficient transportation. Statistics suggest that a person's living standards risk being compromised if the monthly housing rent exceeds 30 percent of his or her salary and commuting time, which is directly proportionate to work-related pressure, is relatively long.
Walking-and cycling-friendly urban planning that allows residents to get their daily necessities within walking distance is also essential to the success of Xiongan. That requires more flexible, community-based designs, instead of the concentration of urban functions in the city's center. So the renovation of old communities and construction of new ones in Xiongan should be in sync with the new area's long-term goals, rather than being at odds with the local situation.
With Beijing municipality entering the post-industrialization era and neighboring Tianjin municipality and Hebei province striving to complete their industrialization process, Xiongan could emulate and eventually rise above their success. In particular, the new area should be a test case for the idea of smart society, in which every citizen is granted access to social governance, flexible working hours and tailored employment.
Cutting-edge technologies such as big data, the Internet of Things and artificial intelligence are expected to be used in the management of Xiongan. If carried out successfully, this smart approach could be adopted by other Chinese metropolises aiming to get rid of the "big city diseases".
Abundant cultural resources could be a cherry on the cake for Xiongan. China's urbanization, marked by the increase in urban population and wealth, will be about creating valuable, meaningful lifestyles for urban dwellers whose demand for cultural products has surged in recent years. In Xiongan's case, intangible cultural heritage at the national level, from ancient music to martial arts, have the potential to enrich the local cultural atmosphere if sufficiently exploited.
Although designed as a millennial national plan, Xiongan New Area cannot be built in a day nor will its construction be free of complexities. Scientific planning and strategic patience need to be practiced to continue the historic social experimentation, while governments at all levels and market forces should play their part without overstepping the boundaries to make the project a big success.
The author is an associate research professor at the Institutes of Science and Development, Chinese Academy of Sciences, and a senior research fellow at the Center for China and Globalization.