Qihoo 360 sets up subsidiary in Xiongan New Area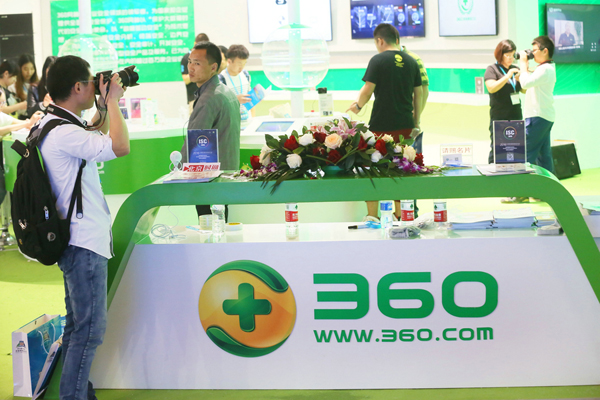 People visit the stand of Qihoo 360 at an expo in Beijing, April 30, 2016. [Photo/VCG]
Qihoo 360 Technology Co Ltd has completed its registration in China's Xiongan New Area to set up a subsidiary, becoming the first cybersecurity company to set its footprint in this new economic area, according to a report by Shanghai Securities News on Friday.
The subsidiary was established on Oct 12, 2017, with registered capital of 10 million yuan ($1.52 million), the report said, adding that Qihoo 360 has pledged its safety network will cover social and economic aspects in Xiongan and will help train more cybersecurity talents in the area as well.
Meanwhile, the People's Insurance Company (Group) of China, China's major insurer, announced On Oct 11 that its proposed subsidiary PICC Pension Company Limited (PICC Pension) has been granted approval to commence operation from the China Insurance Regulatory Commission.
The registered capital of PICC Pension will be 4 billion yuan, with its place of registration in Xiongan New Area and its place of operation in Beijing city, an announcement on PICC's website said.
And information on the National Enterprise Credit Information Publicity System showed that a unit of China's real estate giant Vanke Co Ltd was registered on Oct 10, with 2 billion yuan registered capital and Hebei's Xiongxian, part of Xiongan New Area, as its registration place.
These are among 48 companies in the first batch to have been given green light to set up units in the economic zone, including Alibaba Group Holding Ltd, Tencent Holdings Ltd, Baidu Inc, Jingdong Finance, Shenzhen Kuang-Chi, China Telecom, according to the administrative committee of Xiongan.
Fourteen companies are leading Chinese information technology firms, 15 are in finance, seven are research institutes, and five are focused on green technology.
Nineteen of them are centrally-administered State-owned enterprises and 21 are private companies.
The committee's official WeChat account said on Sept 28 that high-end and high-tech companies will be the mainstream of industry in the area.
While Chinese e-commerce giant Alibaba announced on Sept 29 that it will set up three subsidiaries in Xiongan with a total registered capital of 160 million yuan, tech giant Tencent also set up a subsidiary on Sept 26 in the new area with a registered capital of 20 million yuan, according to Tianyancha, an enterprise data query system.
The Xiongan New Area, a new economic zone about 100 kilometers southwest of Beijing, was announced in April. It covers Hebei's Xiongxian, Rongcheng and Anxin counties.
The project aims to relieve the pressure of population on Beijing and build another economic powerhouse along the lines of those built near Shenzhen and Shanghai.