Colleges should better serve students with internships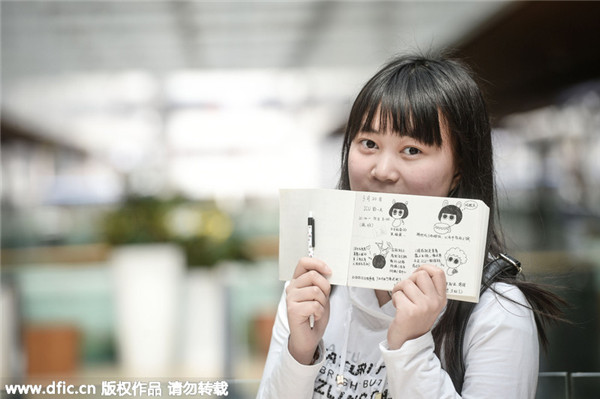 He Xuan, a nursing student who recorded her internship in comics, shows off her internship report in Southwest China's Chongqing municipality, March 26, 2015. [Photo/IC]
A MEDIA survey of 2,021 college graduates found that about half of them had been forced to do mandatory internships. Thepaper.cn comments:
Mandatory internships are a problem in many colleges. For example, in July, a college in Shenyang, Liaoning province, arranged for about 1,000 students to do "internships" in an electronics company, where they did laborious work for very low pay. In the end, the local education department put a stop to it.
Many ask why students do not refuse such internships. The answer is simple: Certain colleges threaten to keep the students' diplomas if the latter disobey the arrangements for mandatory internships. It is illegal but many colleges still do it.
Internships offer students the opportunity to apply what they have learned and find out what employers are looking for. However, it is better to allow them to find their own internships instead of arranging the same one for them all.
Besides, each student has his or her own requirements. For example, some students hope to get internships in their last year at college because they hope to sharpen their skills, while others want to spend the last year applying for postgraduate studies, so they want to get internships one year earlier. A mandatory internship for all will violate these schedules.
Worse, certain college officials might receive "incentives" from enterprises and then arrange for students to do low-paid physical jobs for the latter in the name of "internships". That's corruption and must be curbed.
In order to prevent the abuse of internships in the future, it is time to strengthen law enforcement so that students' legal rights get better protection. More important, colleges must change their roles in students' internships from manager to service provider. They should provide services to students to make it more convenient for them to find internships, instead of imposing their ideas upon the latter. Only with a stronger sense of service could colleges better serve students.