China can help WHO improve global health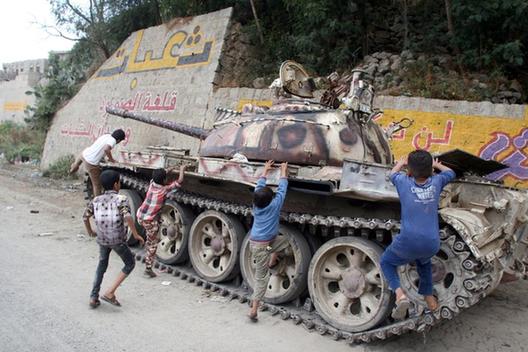 Boys climb on a tank used by pro-government fighters during recent battles against Houthi fighters in the southwestern city of Taiz, Yemen November 26, 2016. [Agencies]
A few weeks ago, as the newly elected director-general of the World Health Organization, I undertook one of my first official country visits, to Yemen. That country, after two years of conflict and the complete collapse of basic public services, is now suffering from the largest cholera outbreak in the world, in one of the greatest humanitarian crisis anywhere. Malnutrition is rampant, and famine appears imminent. Some 15 million people have no access to healthcare or to clean water and sanitation.
WHO is now engaged, with many partners, in an intensive effort to improve this situation as rapidly as possible. China has been a key contributor to this effort, and we are especially grateful for this country's commitment to global health and safety through generous financial support to our work in Yemen.
China's support is an example of the solidarity the world needs to deal with crises. It is a demonstration of the strong commitment to global health that China has been making for years. This country has a track record of more than 50 years of cooperation with, and aid to, Africa. One of the most recent instances of this support was its dispatch of Emergency Medical Teams to West Africa to assist in the Ebola outbreak. In addition to its support in emergencies, China's capacity to manufacture high-quality, safe, and effective vaccines, medicines, and medical devices promises to become a critical global resource for health.
I have come to China this week to mark an intensified strategic partnership between China and the World Health Organization.
Earlier this year, President Xi Jinping made an historic visit to WHO headquarters in Geneva. My predecessor, Dr Margaret Chan, and Dr Li Bin, minister of the National Health and Family Planning Commission, agreed on a plan for health sector cooperation. The overarching goal of this agreement is to improve the health of China's people and that of those residing in countries involved in the Belt and Road Initiative. We aim together to build a safe and healthy Silk Road.
All countries have a responsibility to keep their people safe. The mission of the World Health Organization is to help all countries fulfil their duty of safety and care to their citizens, especially to the poorest and most vulnerable. As President Xi noted in his world vision, human society has become an intimate community of common destiny, with the security interests of all countries intertwined. Further, those countries that are doing well are obligated to help those that are struggling; we are only as strong as the weakest link.
Since taking up the leadership of WHO, I have stressed several priorities for the organization, including the ability to prevent, detect, and respond to health emergencies, and the achievement of universal health coverage through robust health systems.
The Ebola crisis in West Africa confirmed in a most devastating way that the global community is not well prepared to respond to serious disease outbreaks. Strong and resilient health systems are required to support this capacity. The most robust health systems are those built on the principle of universal coverage, with all citizens on the same, equitable footing. No one should have to choose between healthcare and impoverishment.
China's long experience and expertise in health systems and policies will be invaluable to achieving WHO's global priorities, especially in health crises management and advancing along the road to universal health coverage. China can share its lessons learned and best practices with other countries, offering them models of success.
My vision for the upcoming days is one of energetic discussions, and the stimulation of new ideas. But beyond talk and ideas, I expect the formulation of plans that can be implemented to produce tangible results that can keep people safe and healthy-not just along the Silk Road but all around the world.
The author is director-general of WHO.