Confidence vital for bright future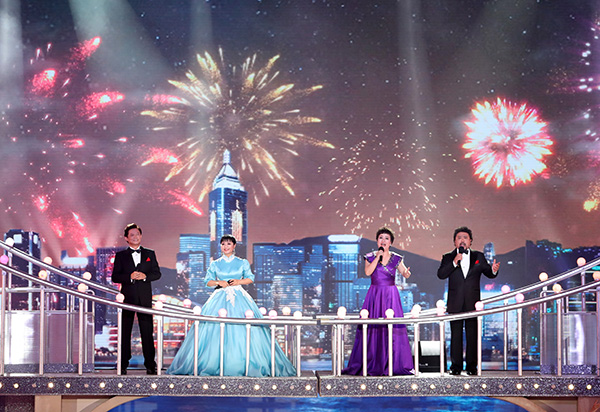 Singers perform at the grand variety show at the Hong Kong Convention and Exhibition Centre on Friday during the celebration of the 20th anniversary of Hong Kong's return to China. [Photo/Xinhua]
At a grand banquet held in his honor in Hong Kong on Friday by the special administrative region government on the eve of the 20th anniversary of the resumption of China's exercise of sovereignty over Hong Kong, President Xi Jinping delivered a heartfelt speech.
In addition to congratulating Hong Kong on the great achievements it has made over the past 20 years, he also extended his best wishes to the city's more than 7 million residents in their pursuit of a brighter future.
There is no doubt the road ahead will not be easy, but Xi said the central government has full confidence in Hong Kong society's ability to prevail over any adversity. For that reason he called on Hong Kong people to have confidence in themselves, in Hong Kong and in the country.
The president encouraged Hong Kong people to be proud of their identity as Chinese nationals residing in a special administrative region of the People's Republic of China, a country that has made remarkable achievements in every aspect of social and economic development in recent years.
The reason why people in Hong Kong can have confidence in their own community is simple; the modern cosmopolitan city we see today was literally built from scratch by generations of Chinese people who emigrated from the mainland and their descendants.
As an overwhelmingly Chinese community that has embraced people from other parts of the world and other cultures, Hong Kong boasts some rare advantages and can play an irreplaceable role in the national economy and global trade.
Hong Kong has triumphed under the principle of "one country, two systems", which has been the institutional arrangement for its long-term stability and prosperity, and enabled it to overcome difficulties and challenges.
Xi called on the people of Hong Kong, especially the younger generation, to build on the achievements already made and seize the historical opportunities to serve Hong Kong and the country, and take pride in being proud Chinese citizens residing in the HKSAR of the PRC.