Consumers expect more from globalization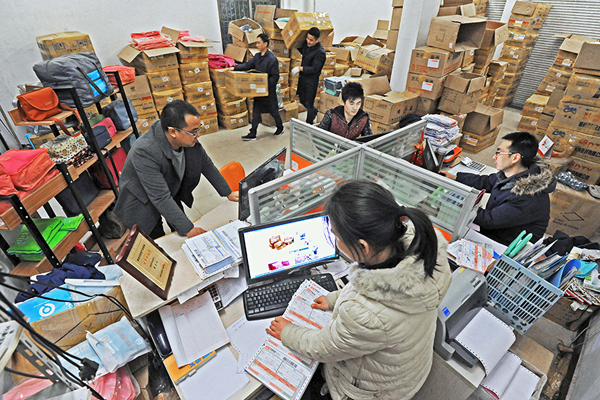 Employees of an online store process orders in Qingyanliu village, East China's Zhejiang province on Dec 29, 2015. [Photo/Xinhua]
Talks about the challenges to globalization have become louder, as the world economy is yet to clear the long shadow cast by the global financial crisis. But Chinese consumers differ in their views on the prospects of globalization.
The just issued annual report of the Bank for International Settlements, the so-called central bank of central banks, dedicates an entire chapter to refute protectionist arguments that have been part of a broader social and political backlash against globalization. The report insists that rolling back globalization would deal a major blow to the prospects of sustained and robust expansion of the world economy.
Some developed countries that have enjoyed most of the early benefits of improved living standards generated by globalization have ample reason to reassess their previous lack of policies to push forward reforms that can preserve the achievements of globalization while fixing its flaws, which could have contributed to the widening inequality within their economies. "De-globalization" is definitely not the solution to their problems.
Chinese consumers, in fact, are opposed to any protectionist suggestions.
Why? Because after decades of hard work and steady income growth, they are more than delighted to find an increasingly globalized economy offers them a widening choice of products from across the world in this era of e-commerce.
With their per capita GDP exceeding $8,000, Chinese people have begun to display their great potential to drive economic growth as middle-income consumers, rather than only as highly productive workers.
For many years, comparatively mediocre consumption growth has long been deemed a headache for Chinese policymakers, who are eager to reduce the country's excessive dependence on fixed-asset investment and exports for double-digit growth.
Now, all of a sudden, stable and steady consumption is emerging as the leading growth engine for the world's second-largest economy. While in the first quarter of this year the Chinese economy grew 6.9 percent year-on-year, the fastest pace since the third quarter of 2015, consumption contributed as much as three quarters to the GDP growth.
Although it may be too early to conclude that China has successfully shifted from investment- and exports-led growth to consumption-powered growth, it is a fact that consumption accounted for about two-thirds of the growth last year. Besides, the combination of Chinese consumers' incredible enthusiasm for online shopping and growing purchasing power do justify a second thought on China successfully shifting to consumption-led growth in the coming years.
China is the world's largest online shopping market, and hundreds of millions of Chinese consumers spent about 5.15 trillion yuan ($814.42 billion) online last year, up 26 percent year-on-year. And in the first five months of this year, online retail sales hit 2.47 trillion yuan ($363 billion), up 32.5 percent year-on-year.
Since Chinese consumers have become increasingly quality- and brand-conscious, it was not surprising to see China's cross-border online sales grow 23.5 percent to 6.3 trillion yuan last year. Major consumer brands, supermarkets and retailers from developed countries have gained considerable popularity among Chinese online shoppers, and Alibaba, China's e-commerce giant, has said it could create 1 million jobs in the United States in the next five years by helping 1 million small US businesses sell their products to consumers in China and Southeast Asia.
Chinese consumers seem set to further benefit from as well as contribute to globalization. The globalized economy does face intense challenges, with central banks around the world trying to deal with the dire consequences of too much cheap money. But if Chinese consumers can embrace globalization for a better life, why shouldn't global policymakers talk about how to make the best use of this trend, instead of pondering over de-globalization.
The author is a senior writer with China Daily.
zhuqiwen@chinadaily.com.cn