MSCI signals investors have confidence in Chinese market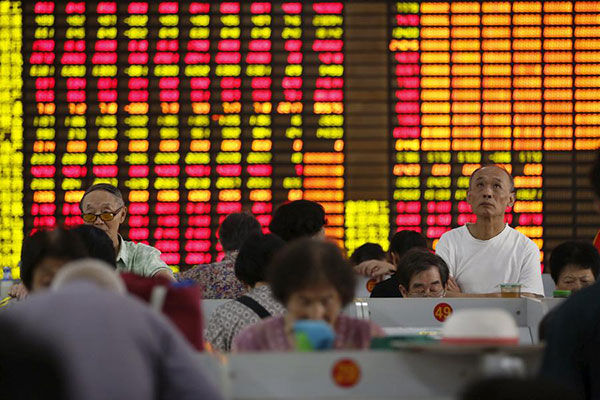 Investors look at computer screens showing stock information at a brokerage in Shanghai, August 13, 2015.[Photo/Agencies]
Global stock indexes provider MSCI's announcement on Tuesday that it will include 222 large Shanghai and Shenzhen listed companies into its widely followed Emerging Markets Index is a welcome move that caters to the needs of international investors and reflects their rising confidence in the Chinese economy.
Given that MSCI has more than $10 trillion worth of active and passive assets benchmarked against it, with $2 trillion tracking the Emerging Markets Index alone, the inclusion will surely buoy up the bearish Chinese domestic market in the long run.
This has not come easy, as MSCI has excluded Chinese mainland shares for three years in a row, citing China's restrictions on market access and on capital flows in and out of the country.
Yet with a valuation of more than $6 trillion, the Chinese mainland market now accounts for more than 10 percent of capitalization of the global equity market, so excluding domestically-traded A-shares from the index has made it at best incomplete, if not misleading.
The MSCI's decision to finally include them is recognition of the rapid progress China has made in making its stock markets more accessible to foreign investors, something that the index provider previously cited as a major concern.
Besides the Qualified Foreign Institutional Investors program, China has, since late 2014, launched Stock Connects, that give foreign investors access to the Shanghai and Shenzhen stock markets through Hong Kong. Though the quotas available are yet to expand, the Stock Connect program has been a big step forward in improving the accessibility of China's markets, "a game changer for the market opening of China A-shares," as Remy Briand, MSCI managing director and chairman of the MSCI Index Policy Committee, said in the news release announcing their inclusion in its index.
As part of China's moves to make companies more market-oriented and governed by law, new rules have also been put in place to regulate stock trading suspensions, a major issue when hundreds of companies halted their trading during a market crash in 2015.
Such measures have won broad support from international institutional investors.
Yet it is unrealistic to expect the MSCI inclusion will usher in a bull market for China. MSCI expects initial inflows following the inclusion of Chinese shares will be around $17 billion, a negligible amount compared with China's total market capitalization.
To make the Chinese market truly attractive, a lot more needs to be done to improve corporate governance.
The MSCI's inclusion of Chinese shares in its index should be the start of moves in that direction.