Targeted policy needed to promote culture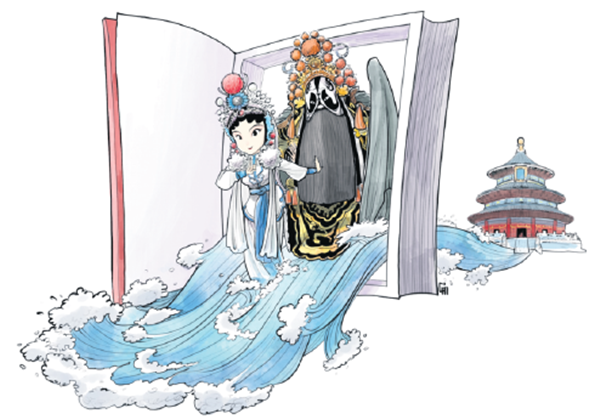 CAI MENG/ CHINA DAILY
Has China's attempt to promote its culture abroad, particularly in the West, made enough impact? Compared with the prevalence of Western culture in China, both in terms of its influence and the money it generates, it appears China faces a "culture deficit".
There is a huge gap between performing a traditional opera for the Chinese community abroad and actually letting local residents know what our culture is really about. My observations are based on my studies and work experiences abroad over two decades.
A concrete example that can explain this "culture deficit" is the different nature of difficulties faced by organizers when it comes to using performances to promote the works of, say, William Shakespeare and eminent Chinese playwright Tang Xianzu, both of whom died in the same year.
Last year, for example, the governments of China and the United Kingdom co-hosted a series of activities to commemorate the 400th anniversary of the two playwrights' deaths. The idea was to equally promote the two dramatists' works, but the plays of Tang were performed abroad just about 30 times, while those of Shakespeare were staged more than 300 times in China. As a result, fewer people in the UK got to know about Tang and his works.
That was not an isolated case, for last year our plays and shows were performed less than 20 times in Russia, while more than 300 Russian shows were staged in China.
The cases with movies and books are similar.
The key problem behind this phenomenon may be the way we Chinese tell a story. The need therefore is to present Chinese works in a different, perhaps in a more detailed and delicate, way to draw foreign audiences. I plan to submit more concrete proposals on the subject to the Chinese People's Political Consultative Conference National Committee to help Chinese culture make a greater impact on the global stage.
The current policy can further facilitate the promotion of Chinese performing arts if applied more appropriately. But since I'm on the panel of judges of the China National Arts Fund, under the Ministry of Culture, which plays a big role in culture promotion, I might formulate a specific proposal this year on how to learn from the experiences of other countries, such as Japan and the United States, to use China's national fund to encourage better quality works to highlight Chinese culture abroad.
The fact is, not only foreign audiences are likely to be unaware about Tang, but also many in China have to be educated to truly appreciate his plays. Finding the best way to promote classic Chinese works and cultivating domestic audiences' taste remain critical tasks.
As a member of the CPPCC National Committee for the past 15 years, I have learned that a proposal should be gradually adjusted, depending on the public response it draws, as one of my proposals-to include Peking Opera in the primary and secondary school curricula-caused something of a stir. Many people, including some foreign journalists, mistook it as a proposal to introduce "model operas", which is definitely not part of traditional Chinese Peking Opera, in textbooks and an effort to teach students how to perform Peking Opera. I organized a symposium during that year's annual sessions of the CPPCC National Committee and the National People's Congress to hear the suggestions of teachers and parents. And my modified proposal said the school curricula should include materials on Chinese traditional opera, and students should learn only to appreciate Peking Opera, not to perform it.
The incident made me realize that more emphasis should be laid on promoting Chinese culture among students as well as among foreign audiences. China has performed wonderfully on many fronts. But it needs more top-level policies to promote its culture.
The author is a member of the 12th CPPCC National Committee and dean of the School of Art and Research, Beijing Foreign Studies University. This article is an excerpt from her interview with China Daily's Wu Zheyu.