Teacher chose wrong way to stop phone use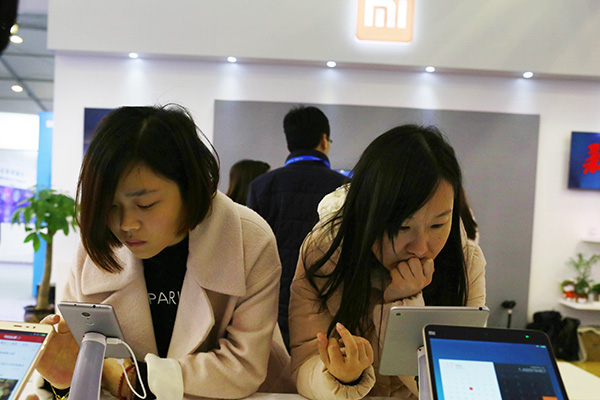 Visitors try the latest smartphones of Xiaomi Corp at an industry expo in Wuzhen, Zhejiang province. [Photo/China Daily]
A TEACHER in a middle school in Deyang, in southwestern China's Sichuan province, told a student to smash his smartphone after discovering the student playing with the phone in class. Beijing News commented on Thursday:
Although the teacher was rightly urging the student to focus on the class, the teacher should have done so in a legal way. The smartphone is the student's personal belonging and therefore, according to the Property Law the teacher had no right to demand the destruction of the student's phone.
In fact, students are usually in a disadvantaged position in relation to their teachers and schools. Given their unequal status and power, without the consent of the students and parents and the authorization of the school, the teacher's act is too extreme.
Under the existing educational philosophy, the purpose of the school is to teach and educate children first. Providing guidance to those students behaving badly is always better than punishing them.
Maintaining order in the classroom in accordance with school rules is part of a teacher's duties, but this must be done in a legitimate and humane manner.
In view of this, when students use their mobile phones in class, the teacher should remind, advise, and educate them that this is not appropriate behavior, cooperating with the student's parents if necessary.