Truck test cheats worsen air pollution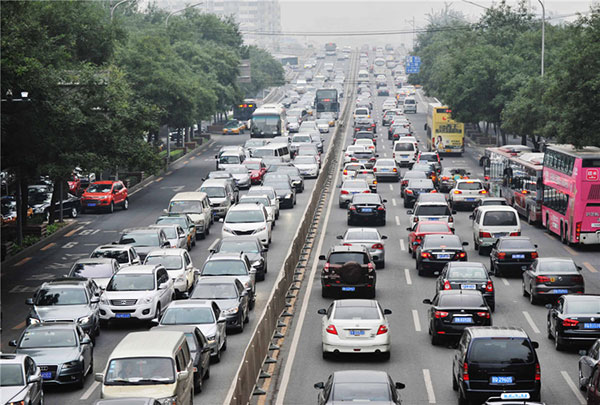 Traffic grinds to a standstill during the peak rush hour on Sept 22, 2014 near Liujiayao Bridge, Third Ring Road South, Beijing. [Photo/Xinhua]
SOME DRIVERS IN TANGSHAN, a city in North China's Hebei province, including drivers of heavy trucks, reportedly paid local "test brokers" so their vehicles passed the compulsory annual tests for all road vehicles without actually taking them. Beijing News commented on Monday:
At the cost of just 1,000 yuan ($145), all kinds of vehicles, including trucks with excessive exhaust emissions, can be "properly dealt with" so they pass the annual tests, according to the Tangshan brokers. That means, despite the hefty punishments for violators of the environmental protection law, these heavy vehicles can pollute with impunity.
Turning a blind eye to the polluting trucks, one of which can generate more emissions than more than 200 new sedans, deals a severe blow to anti-pollution efforts. That a great number of trucks from neighboring provinces such as Hebei and Shandong keep entering and departing Beijing day in, day out, imposes an extra burden on the capital's air quality. That explains why Beijing has strengthened its restrictions on heavy trucks during smog-hit days.
Some 200,000 diesel-fueled trucks may not seem many compared with Beijing's 5.7 million vehicles in total, but they are capable of producing more pollution than the rest of the vehicles on the capital's roads if not equipped with an urea-injection system that can significantly reduce emissions.
Which parties are behind the massive underground network of vehicle tests should not be too hard to find out. On one hand, governments especially in the smog-stricken areas have put a lot of work into plugging the loopholes in the supervision of annual vehicle tests. On the other, many drivers still manage to have their untested trucks "approved" by the local transportation authorities thanks to the string-pulling of middlemen. These blind spots in supervision must be taken care of.