Anti-poverty battle still tough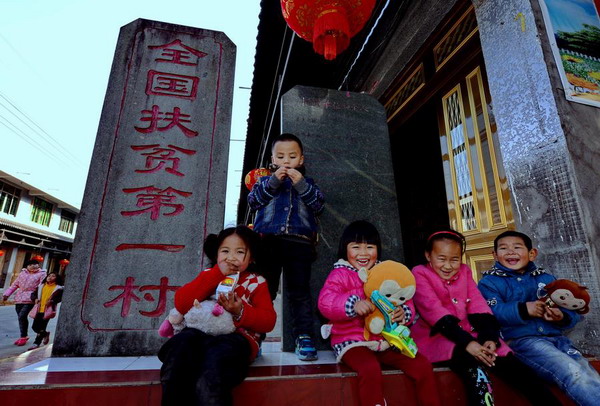 Children of She ethnic group sit in front of a monument that reads "China's No. 1 Poverty Relief Village" at Chixi Village, Panxi town, Fuding city in East China's Fujian province, Feb 14, 2016. The village has shaken off poverty thanks to assistance from Party and government officials at all levels over the past 30 years. [Photo/Xinhua]
Xi Jinping, general secretary of the Communist Party of China Central Committee, stressed the importance of lifting the rural impoverished population out of poverty and accomplishing the poverty alleviation targets on schedule.
Addressing the recent 39th collective study session held by the Political Bureau of the CPC Central Committee, Xi said it is the bottom line for building an all-round moderately prosperous society and also the Party's solemn commitment to the people.
More than 10 million people in rural areas have been lifted out of poverty every year from 2013, and experience shows that China with its economic strength and powerful institutional advantages can launch a sustained battle against poverty and convert its anti-poverty efforts into a driver for sustainable development.
Given that the remaining people living in poverty are the poorest of the poor, Xi said lifting them out of poverty will be an arduous task requiring tailored poverty relief policies and precision measures.
In this regard, the mobilization of precision resources and successful implementation of precision policies in the city of Jinggangshan in East China's Jiangxi province, and Lankao in Central China's Henan province, provide a good example that other areas can learn from.
To eradicate poverty, improve people's livelihoods and realize common prosperity is an important mission of the CPC, and its goal is to lift the remaining millions of poor people out of poverty and establish an all-round, moderately well-off society by 2020.
But on the way to achieving this goal, the difficulty of the poverty alleviation task should not be underestimated. High vigilance should be maintained against any formalism and "number games" by local officials so that efforts to lift people out of poverty stand the test of practice and history.
--People's Daily