Cutting overcapacity still a challenge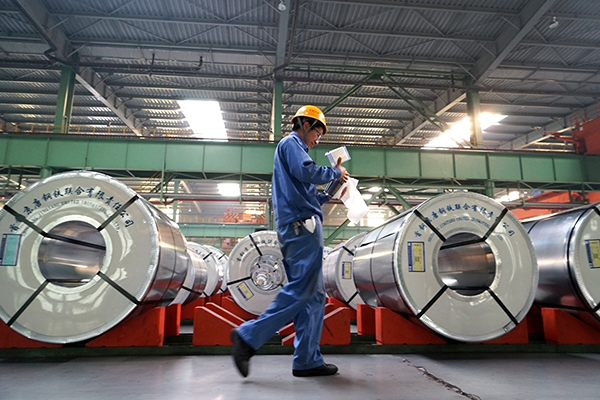 A worker checks steel product files at a cold rolling mill of Tangsteel Group Ltd in Tangshan, Hebei province. [Photo/China Daily]
Over the past more than one year, reducing overcapacity has been one of the five main tasks of supply-side structural reform for both the central and local governments. And according to Xu Shaoshi, head of the National Development and Reform Commission, the goal of eliminating 250 million tons of coal overcapacity in 2016 has been "over-fulfilled".
Incomplete statistics show that in 2016, central State-owned enterprises reduced 10.19 million tons of iron and steel overcapacity and 34.97 million tons of coal overcapacity. Plus, the task of doing away with 398 "zombie enterprises" and those enterprises facing extreme difficulties has been completed.
Compared with other tasks of supply-side structural reform, reducing overcapacity is easier to achieve, because it is related mainly to the relevant enterprises, and the government only needs to provide the necessary guidance.
Deleveraging, however, is a more complicated task, because it could undermine local residents' efforts to increase local governments' disposable incomes, and it is very difficult for enterprises to cut costs, especially during the prevailing turbulent economic conditions.
Besides, another task of supply-side structural reform-making up for deficiencies-depends on technological progress and innovation, which can hardly be achieved in the short term.
In fact, a huge amount of overcapacity eliminated in 2016 was invalid capacity. Take steel for example. According to a 2016 report jointly issued by a Chinese steel industry website Custeel and an international environmental protection NGO, the iron and steel plants that suspended production before June 2016 had invalid capacity, and 14 Chinese provinces including Gansu and Guizhou had iron and steel invalid capacity.
For instance, enterprises in 26 provinces, municipalities and autonomous regions, excluding the central State-owned enterprises, eliminated 39.85 million tons of iron overcapacity in 2016, but 24.41 million tons of that overcapacity-or 61.26 percent of the total-was invalid iron capacity.
So the real challenges of reducing overcapacity remain in 2017. Many industries suffered (or still suffer) from overcapacity because of over-investment after 2009. For instance, some new energy industries have overcapacity thanks to government promotion and fiscal subsidies over the past few years.
With the changes in market demand, it has become even more difficult for traditional industries, such as iron, steel, construction materials and electrolytic aluminum, to cut overcapacity.
To effectively eliminate overcapacity, we have to respect the market. The market's basic function is to effectively distribute resources and help form compatible incentive mechanisms. The function of the government is to provide, among other things, a stable macroeconomic environment, essential social security, and good education and scientific research systems, as well as predictable planning, rather than directly intervening in enterprises' micro-economic activities.
Therefore, as the key player in reducing overcapacity, the government should make more efforts in the following aspects.
First, the government has to respect the market and encourage enterprises to eliminate overcapacity through mergers and acquisitions as well as reorganization.
Second, it should establish standards, including technical, quality, energy consumption, environmental protection and security standards, to eliminate overcapacity.
Third, it should explore multiple models of reducing overcapacity, and take steps to prevent overcapacity from making a comeback when the market warms up.
Fourth, it has to dispose of non-performing assets according to laws and regulations, and prevent them from casting a negative influence on society.
Fifth, it should promote policies that provide fiscal and taxation support, and generate jobs for laid-off workers.
And sixth, the government has to expedite the development of new technologies with independent intellectual property and new industries and new products with market competitiveness.
Although reducing overcapacity through administrative means can ease the contradictions between supply and demand, it cannot fundamentally solve the problem. The fundamental solution is to establish a good mechanism through reform. And most importantly, the market should play a crucial role in resource distribution and the government should play its role better.
The author is a researcher with Institute of Industrial Economics, Chinese Academy of Social Sciences.