Coal mines that fail to meet safety standards must be closed for good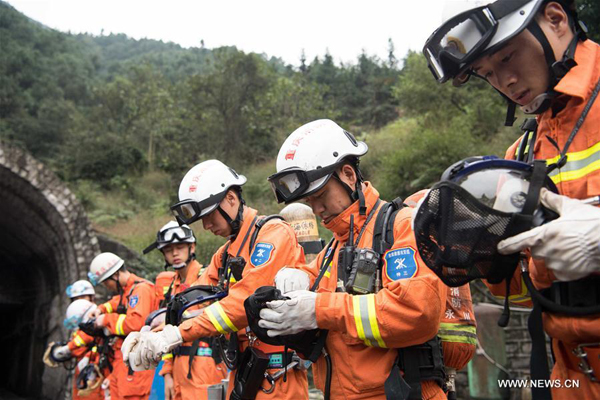 Rescuers work at Jinshangou Coal Mine in Yongchuan District of Chongqing, southwest China, Nov. 1, 2016.[Photo/Xinhua]
SATURDAY'S COAL MINE ACCIDENT in Chifeng in the Inner Mongolia autonomous region is already known to have killed 32, with miners still trapped underground. Incomplete data show that, besides this one, there have been at least eight major coal mine accidents since October, which have claimed 97 lives in all. Beijing News comments:
The increasing frequency of coal mine disasters since October is a result of the upturn in the coal industry. As the northern regions need to burn coal to provide central heating to residents, the price of coal has been rising. On Nov 2, the price of steam coal from around the Bohai region, which is considered a barometer of the domestic coal industry, reached 607 yuan ($88.2) per ton, 64 percent higher than at the beginning of the year.
The rising price of coal has prompted mine owners to increase production; some of them have even reopened coal mines that had already been shut down for safety reasons.
The coal mine in the Inner Mongolia case, Baoma coal mine, is a typical example. It was forced to shut down by the authorities, but its owners reopened it again without permission.
It is not only the coal mine owners and the mine managers that should be held accountable for the disaster, but also the local supervisors. Those responsible for mine safety should also pay if there has been any dereliction of duty on their part. It is time the higher authorities inspected more regions to find out whether other dangerous mines that have been forced to cease operations have been reopened, so as to prevent more tragedies from happening.
The top leadership has been calling for stronger regulating of the coal industry, which includes two parts: cutting overcapacity for the good of the economy, and strengthening safety measures to protect the lives and safety of coal miners. Local coal mine owners and coal mine supervisors must shut down the coal mines that fail to meet safety standards. We cannot afford any more disasters.