Employer not to blame for employee's actions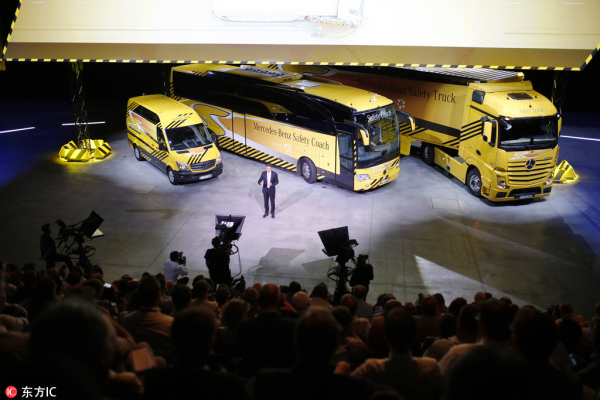 One of board managers of Daimler AG Responsibility for Trucks and Buses speaks at conference.[Photo/IC]
A senior German executive at Daimler Trucks and Buses (China) Ltd has reportedly lost his job after he allegedly insulted a Chinese citizen in a car parking dispute in Beijing. Beijing Times commented on Tuesday:
In an online post which subsequently went viral, the German driver was said to maneuver his car into a parking space in a luxury residential compound when another car was trying to back into it. He was then said to have insulted the Chinese driver in vulgar, racist terms and used pepper spray to disperse people who had gathered and grown angry at his remarks.
Although local police said that the two parties involved had reached an agreement through mediation, that the German auto giant has reportedly fired the senior employee concerned suggests it too found some wrongdoing on the part of its employee.
However, some unhappy netizens have conflated this incident with complaints that Mercedez-Benz, the parent company of Daimler Trucks and Buses, has ignored Chinese customers' legal interests. Since last year, there have been some complaints about the quality of some the automaker's new E-Class sedans, with claims that most of the complaints remain unanswered.
Of course, the latest parking dispute should be dealt with in accordance with the law. But those netizens arguing that the misbehavior of this senior employee represents the German automaker's corporate culture are being unreasonable and unhelpful.
Daimler Trucks and Buses said in a statement late on Monday that it was fully cooperating with the investigation over what it highlighted was a "personal dispute". In other words, the auto giant has no intention to shun away from its responsibility.
Personal disputes like this should not be used to attack a company in terms of its culture and products. But as the incident has shown Mercedez-Benz should address the complaints of owners.