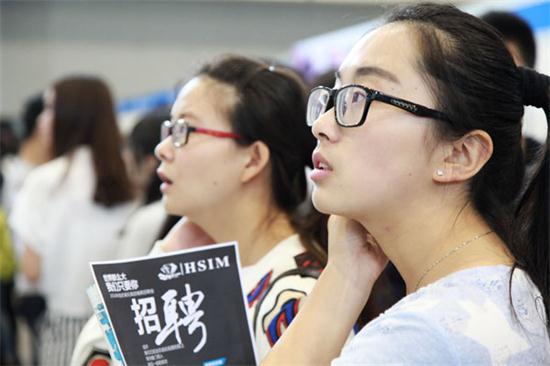 College graduates at a job fair in Nanjing, capital of East China's Jiangsu province, June 5, 2016 [Photo/VCG]
Migrant workers engaged mainly in manual jobs earned 3,072 yuan ($460) a month on average in 2015, about 3.5 times their income 10 years ago, according to the latest data from the Ministry of Human Resources and Social Security. During the same period, the average monthly salary of college graduates increased from 1,588 yuan to 3,726 yuan.
The shrinking income gap between migrant workers and college graduates has sparked a fierce debate online. While one group has expressed concern over the development, the second group accuses the first of being cynical, saying migrant workers should be treated equally in the labor market and earn about the same when doing the same job.
The second group's logic seems skewed. To send a child to college, a family has to spend from 5,000 yuan ($750) to 12,000 yuan a year on tuition, plus pay considerable amounts for other necessities such as textbooks, and dormitory and traveling expenses. More importantly, a student spends perhaps the best three to five years of his/her life in college to earn a degree. Since all these are investments, it is normal for college graduates to expect higher salaries.
The gap between the incomes of workers with college or higher degrees and those without exists in every country. In the United States, people with high school diplomas but without a college degree earned on average $668 a week in 2014, while those with associate degrees made $761, according to the Bureau of Labor Statistics with the US Department of Labor. An average college graduate earned $1,101 a week, with those with a master's degree or doctorate making $1,368. This means one can expect better returns from higher education in the US than in China.
A person's salary is decided by the demand-supply relationship in the labor market. The more candidates compete for a certain kind of job, the more bargaining power the employer will have, which he/she can use to lower the salary.
The number of college graduates has been constantly increasing over the past few decades. From 2001 to 2016 the number of fresh graduates has risen almost sevenfold-1.14 million to 7.56 million. In addition, an increasing number of students are returning to seek jobs at the Chinese mainland after completing their higher studies overseas, though the exact data are not yet available.
There are no official data on how many jobs graduates are competing for, but a report released on Jan 12 by zhaopin.com, the largest domestic employment news website, shows that on average there are 36.8 applicants for one job. Amid such a fierce competition, domestic college graduates have little bargaining power to demand better salaries.
Migrant workers' story presents a contrast. As China approaches the Lewis turning point, a point at which surplus rural labor reaches a financial zero that causes urban wages to increase dramatically, migrant workers have gained more bargaining power. Since 2008, entrepreneurs in the Yangtze River and Pearl River delta regions have been complaining about the lack of manual laborers, saying they have to pay higher wages to recruit such laborers.
Manual laborers do deserve better payment, but as the income gap between those with and without college degrees shrinks, people will hesitate to send their children to college. In turn, that will curb the efforts of raising Chinese people's educational level because a college degree won't guarantee relatively high salary.
To overcome this complicated situation, China should more expeditiously upgrade its industrial structure. Last year, the service sector accounted for 50.5 percent of China's GDP, up 2.4 percent year-on-year but still much lower than that of developed economies. Only a flourishing service sector can provide enough jobs for millions of college graduates in China, and encourage most Chinese to earn higher degrees.
The author is a writer with China Daily. zhangzhouxiang@chinadaily.com.cn