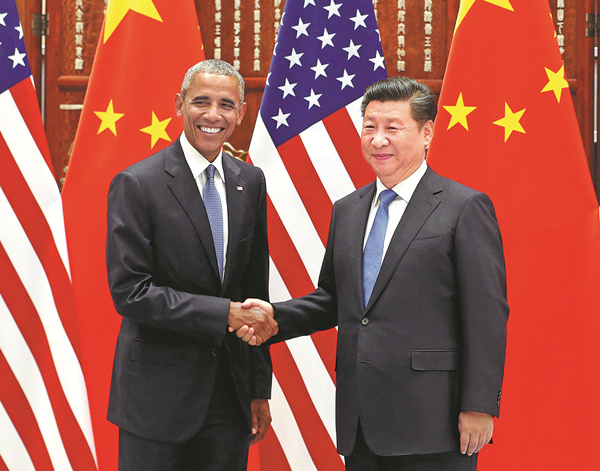 President Xi Jinping and US President Barack Obama meet at the West Lake State Guest House in Hangzhou, Zhejiang province, on Saturday. Wu Zhiyi / China Daily
The Austria-born American management philosopher Peter Drucker once attributed the absence of right-wing fanaticism in North America to the self-organizational ability of society, represented, first of all, by the thousands of well-managed business enterprises.
That point should be appreciated today, when, eight years after the 2008 global financial crisis, all major economic powers still cannot guarantee a sustainable recovery for the world.
The annual meeting of the G20 bears witness to the shared will and joint efforts of the leading developed and developing economies in the world. All countries have so far remained steadfast in their agreement to hold a defensive line for the globalist agenda. There has not been a full-scale trade war and competitive currency depreciations-at least not yet.
The global financial crisis has cast a very long shadow, with growing income inequality in many places and corporations holding onto their capital instead of investing, and judging from the rising protectionism, along with some ideologically-charged rhetoric, from various political forces, there are some who seem willing to set back or spoil the globalization process.
A genuine "mass flourishing" of businesses is needed to help the world both stay on the course of globalization and avoid the malaise that caused the last crisis.
That is why the G20 created, alongside its annual summit, a business leaders' meeting, called the Business 20. That is also why the G20 needs not just a business leaders' meeting, but also a distilled vision of common concerns and necessary actions, which is what President Xi Jinping delivered in his keynote speech at the B20 Summit on Saturday.
Drucker proposed that long-range planning does not deal with future decisions, but with the future of present decisions. In his speech Xi urged all parties to prescribe remedies to the world's economic problems and explore new sources of growth and expand the space for development.
The foreign guests can see for themselves through Hangzhou, the host city of the G20 and B20 summits, how China has become a leader of growth, as the city is home to many new businesses and new management models.
As Xi said it is an unprecedented achievement for a country with such a large population to realize modernization. The more businesses are created, the more they spread from developed to under-developed areas. In the process, obsolete industries are phased out and new ones emerge, jobs are created, and cities such as Hangzhou become vibrant.
The same process can also prove true elsewhere in the world.