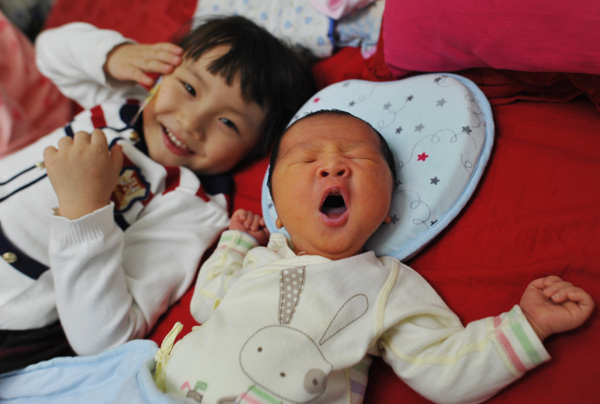 A girl plays with her newborn brother at a hospital in Nanjing, Jiangsu province,on Oct 24. 2014. [Photo/VCG]
The population and family planning commission in South China's Guangdong province announced on Tuesday that people who have remarried will be allowed to have a second child after a couple were put under job pressure because of pregnancy. Beijing Youth Daily commented on Wednesday:
The latest statement was made in response to a case involving a couple in the provincial capital Guangzhou who are expecting their second child. They were previously told the woman would have to have an abortion or they must resign from their jobs as punishment, because it was unclear whether the national family planning policy permitting couples to have a second child applies to couples where one or both parties have remarried.
The Guangzhou couple are not alone in such a dilemma. Many couples who want to have a second child do not know whether they are allowed to do so due to the insufficient implementation and explanation of the revised family planning policy in their cities.
That the country finally abolished its one-child policy last year was a laudable reform of its family-planning policy. About 28 provinces, autonomous regions and municipalities on the mainland have introduced regulations for remarried couples to have a second child. But when the detailed regulations will be available and how they will be implemented are as yet unknown.
In Guangzhou's case, the provincial population and family planning commission said it does not suggest that employers dismiss or punish those who are having a second child without permission.
It is a wise decision to urge employers not to overstep the boundaries of personnel management. People should not be threatened just because they want a second child.
The truth is, the National Health and Family Planning Commission has made it clear that family planning policies have nothing to do with the household registration of a second child. That many employers still threaten to fire or marginalize employees who want a second child is an abuse of power.