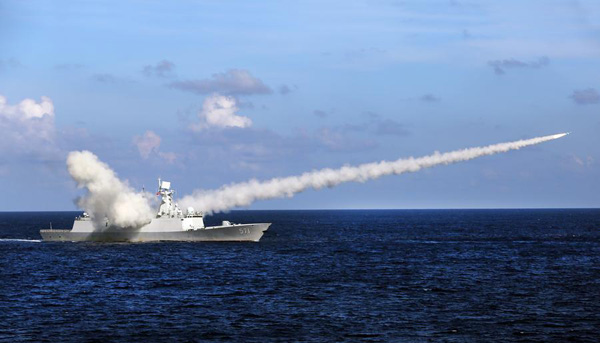 Missile frigate Yuncheng launches an anti-ship missile during a military exercise in the water area near South China's Hainan Island and Xisha islands, July 8, 2016. [Photo/Xinhua]
The Supreme People's Court issued two judicial interpretive documents on Monday on how the courts should handle maritime cases.
The judicial interpretations are of importance for China to defend its maritime rights and sovereignty. They have come at a time when the territorial disputes in the South China Sea have intensified after an award was made in an arbitration case unilaterally initiated by the Philippines.
There are articles covering illegal fishing by foreign vessels in various Chinese laws. The judicial interpretation marks a giant step forward because it puts all these together and makes the procedures clear.
The most notable part of the interpretations is that foreign vessels and individuals that illegally fish in Chinese waters might be sued if they refuse to leave when ordered to do so by the Chinese coast guard.
In the disputed areas, the maritime law enforcement agencies of other claimants often enforce their domestic laws against Chinese fishermen, which can escalate into diplomatic frictions. For example, in 2012, Philippine police detained a number of Chinese fishing vessels, causing a major diplomatic crisis.
Some other claimants have been copying the example of the Philippines, by domestically "legislating" and empowering their police to enforce these "laws" against Chinese fishing boats. By doing so they are trying to "legalize" their claims and rally the support of their citizens.
In order to protect its sovereignty and territory, China has been sending coast guard vessels to patrol the disputed areas. But judicial measures are needed as well, because strict legal procedures will dispel accusations that China is acting unlawfully.
The judicial interpretations of the Supreme People's Court have granted the Chinese coast guard ample legal support. We expect the two to do a better job of defending China's sovereignty and territory in the South China Sea.