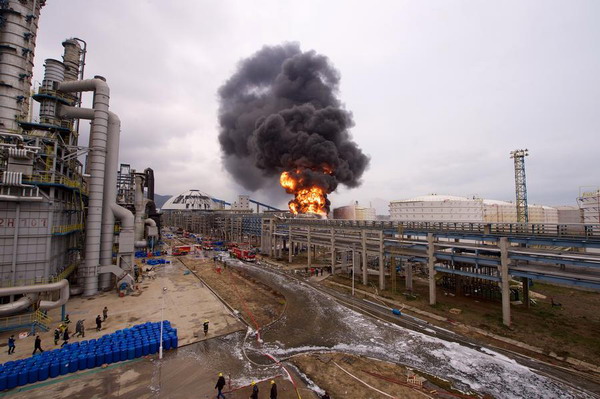 A big fire is seen at a chemical plant in the Gulei Peninsula in Zhangzhou, Fujian province, on April 8, where an explosion on Monday evening injured six people. The fire resurfaced hours after it was extinguished late Tuesday. [Photo/Xinhua]
Lucid waters and lush mountains are the nation's goals, President Xi Jinping has said. Since he became the top leader, China has taken every possible measure to make environmental protection one of the government's principal guidelines as it deals with eco-problems and economic restructuring.
More than 20 years ago, in nearly every development program, China set the goal of transforming its development patterns, which were heavily reliant on energy, especially fossil fuel consumption. Although China's economy grew at double digits for long, the economic growth caused heavy environmental damage. Besides, China has not yet fulfilled its objectives of changing its development patterns.
But preliminary figures now indicate that Xi's team is on track to deliver on its promise. For instance, China's coal consumption decreased 2.9 percent and 3.6 percent year-on-year in 2014 and 2015. And even though the consumption figure for the first half of this year is not yet available, coal production is believed to have dropped year-on-year by 9.7 percent in the January-June period.
For decades, coal accounted for about three-fourths of China's total energy consumption but that ratio fell to a historic low of 64.4 percent in 2015. Qi Ye, director of the Brookings-Tsinghua Center for Public Policy of Tsinghua University and Nicholas Stern, president of the British Academy, have published a joint paper on the subject on Nature Geo-science website. And former energy chief Zhang Guobao has, on the basis of data, said China's coal peak year, by and large, was 2013.
Basically, these achievements have been accomplished in the macroeconomic framework of the "new normal" and supply-side reform, which are focused on reducing industrial overcapacity. But they have also improved the quality of the economy by increasing the output from almost all inputs, such as energy, capital, human and other resources.
To achieve this, China adopted what might be termed a strategy of "killing two birds with one stone".
China has not yet announced a legally-binding ceiling for coal consumption on a countrywide basis, but nearly all provincial capitals and municipalities, most of which suffer from heavy air pollution, have set their goals for coal use. For example, Beijing's coal consumption will be no more than 10 percent of its total energy mix next year. Shanghai has banned all households and small-scale boilers from using coal. And some areas of Chengdu, capital of Southwest China's Sichuan province, have been prohibited from burning coal altogether.
Sichuan has already announced a ceiling on coal consumption. Even Shanxi, China's largest coal producing province in North China, has started building large-scale wind farms and setting up solar plants to gradually replace coal use.
The phasing out of coal consumption and the ceiling policy are similar to what happened across Europe when countries realized the importance of protecting the environment. As such, the bottom-up approach of China to curb coal use has positive implications even though the coal industry faces the pressure of low price and rising lay-offs.
The policies adopted by China will help reduce industrial overcapacity, especially in the steel industry. In some cities, blue-sky days have increased dramatically since the clean-air campaign was launched. That is the kind of environment people long for and deserve.
Such environmental welfare approach can help reduce the healthcare bill of families and the government. From a policy point of view, these practices may help the government put a ceiling on total energy consumption. And if that happens, it would be a huge step forward in fulfilling China's commitments to reducing energy consumption.
Another revolutionary step would be to revise the peak year for China's carbon emissions, which was previously set by the government around 2030.
It seems Xi's goal of developing a green and beautiful nation is on way to be achieved before schedule.
The author is deputy chief for China Daily European Bureau. fujing@chinadaily.com.cn