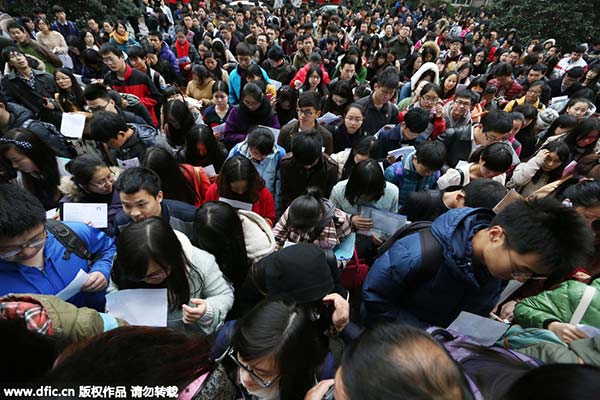 Chinese examinees walk towards an exam site to attend the 2015 China National Civil Service Examination in Nanjing city, East China's Jiangsu province, Nov 30, 2014. [Photo/IC]
The once popular rumor about civil servants quitting their jobs en masse is simply a rumor. The State Administration of Civil Service has announced that in 2015 fewer than 12,000 civil servants, or 0.2 percent of the total, quit their jobs; the figure was only slightly higher than the previous year.
But what is so special about civil servants that their resignations became a hot topic of public discussion?
The civil service is like any other profession. So if civil servants resign and shift to other professions, it should be considered a normal phenomenon not least because it helps the flow of talents in society.
Yet the civil service has been idolized for long. Data show the number of people applying to take the national civil service examination jumped from 120,000 in 2004 to 1.12 million in 2014, almost a ten-fold rise in a decade.
The importance of the exam for parents who want their children to have a bright future is much more than the national college entrance exam, or gaokao. The idolization of civil service is a result of the ever-increasing pressure on college graduates to find a "good" job.
The craze for civil service jobs also has a lot to do with the economic cycle. Even though the majority of the salaried people's incomes increased, their rate of growth was lower that the rise in commodity prices.
Civil servants as a group are less affected by inflation because even if their salaries are relatively low, their welfare allowances and perks are much better than those of people in other professions. For example, most civil servants can get a house near their offices at prices much lower than the market, which is a very important factor considering the high and still rising realty prices.
Ironically, the craze for civil service jobs coincided with stigmatization of the profession. Angered by the once rampant corruption, many people targeted civil servants by exaggerating their welfare allowances. The contradiction was that, while people linked civil servants with corruption, many of them, especially youths, were busy applying to join the civil service.
The majority of civil servants are honest, and they don't get a chance to make illicit money. And the good welfare allowances they get are not much better than what people in some other professions get.
The ongoing anti-corruption campaign has cleared one rumor after another about civil servants, which in turn has helped reduce the idolization of civil services. Latest data show about 1.05 million candidates took the civil service exam in 2015. The figure was not only lower than that of 2014, but also was the best proof that the blind pursuit of civil service jobs is fading.
Therefore, the fact that more civil servants quit their jobs in 2015 than in 2014 is nothing to be surprised at. That's a healthy trend and suggests the civil service profession is returning to normal.
The author is a writer with China Daily. zhangzhouxiang@chinadaily.com.cn